Winter Haven Police Department D.A.R.E. Graduation – Long Time DARE Officer Retiring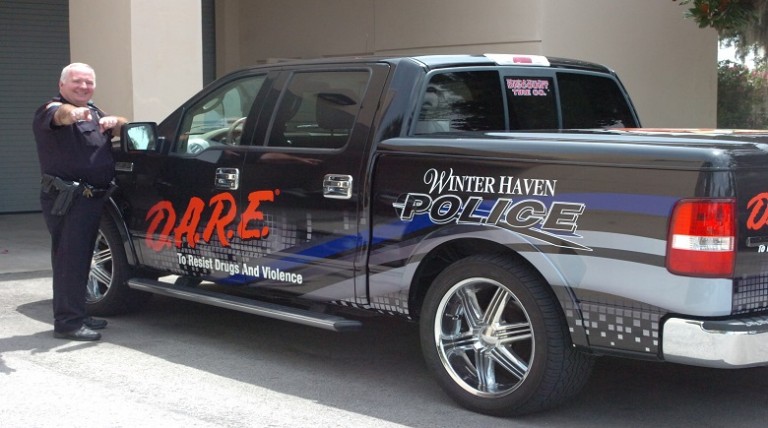 On Tuesday, May 3, 2016, at 9:30 a.m. at Winter Haven Worship Center 1835 Overlook Dr. Winter Haven, FL, D.A.R.E. Officer Terry Bowden will conduct his final D.A.R.E. Graduation as he hands the responsibilities to Officer Kris Bhoj.
The annual D.A.R.E. (Drug Abuse Resistance Education) Graduation has been the highlight of fifth grade students who attend Winter Haven Elementary Schools.  More than 600 fifth grade students from local elementary schools will be graduating from the D.A.R.E program at this year's ceremony.
D.A.R.E. is a ten week program taught to all fifth grade students who attend school within the Winter Haven city limits reaching children at the age where they are most receptive to drug prevention.  Project D.A.R.E. seeks to prevent adolescent drug use and reduce drug trafficking by eliminating the demand for drugs. D.A.R.E provides students with the tools they need to build a better life and a brighter future.
Fifth-grade students from across Winter Haven will participate including Brigham Academy, Chain of Lakes Elementary, Elbert Elementary, Garner Elementary, Grace Lutheran School, Inwood Elementary, Jewett School of the Arts, Saint Joseph's Catholic School and Winter Haven Christian School.
The D.A.R.E. program has been taught by officers of the Winter Haven Police Department since 1989. More than 14,000 students have successfully completed the D.A.R.E. program since its inception.   This program has tremendously impacted our community.
Media is welcome to come celebrate this wonderful event and wish Officer Bowden well on his final Graduation!