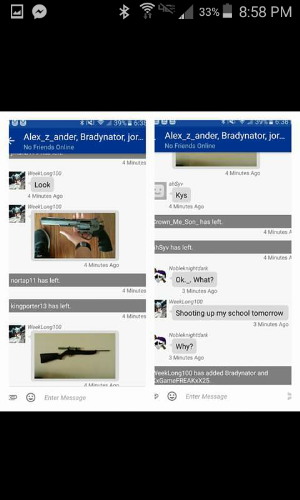 A relentless Winter Haven Detective who learned of a PlayStation 4 threat to shoot up a school in Kansas didn't stop until it was determined that the threat was made by a 16 year-old Kansas boy who said it was just a joke.
On March 31, 2016, a friend of a Winter Haven Detective contacted him regarding a report of someone seeing a post while playing a PS4 game online. The post seen by a Port Richey resident who was online with their private PS4 involved photos of two guns and the post of, "shooting up my school tomorrow."
When the detective received the information, he immediately contacted the Pasco Sheriff's Office in order to make contact with the user who saw the threatening post. He also contacted the PlayStation Network in order to attempt to locate the address of the threatening post utilizing the user's screen name. PlayStation relayed that a history would be made of the account name to determine if there was any complaint history. They also stated that they would need a subpoena in order to obtain information regarding the IP address or any other information that would identify the poster.
A short time later, PlayStation contacted the detective and confirmed that there were multiple complaints lodged against the PlayStation poster within the past hour. Due to the urgency of the post and the immediate threat to the safety of a school, information was received that the poster was 16 year-old Jan Paul Cintron of Leavenworth Kansas.
Immediate contact was made with the law enforcement agency in Leavenworth Kansas and an officer was dispatched to the residence listed through the IP address of the PlayStation poster. Leavenworth officers responded and reportedly encountered the two occupants inside of the residence. The officer who responded was able to see a PlayStation screen through the open door along with a long-barreled weapon that was described in the report. The officer, who did not enter the residence, requested the parent or guardian of the juvenile who answered the door to respond, to which she did. Once she arrived, it was determined she was the mother of Cintron and gave permission for the Leavenworth officer to enter the residence.
When the officer entered, he located two weapons, ultimately determined to be a "black ops" pellet gun, which looked like a very large revolver and a Crossman BB gun with a scope on it. Both weapons were the same as depicted in the PlayStation post included with the threat.
Cintron ultimately admitted to the officer that he did in fact send the messages and pictures as a joke.
Cintron was arrested and charged with (F) Criminal threat; Cause terror, evacuation or disruption (Kansas Statute 21-5415(a)(1). He was taken to the Juvenile Detention facility.
"I am extremely proud of our Detective as he took this case much further than our jurisdiction," said Chief Charlie Bird.  The seriousness of this type of threat causes immediate concern and he did a fantastic job to run down the threat and have local officials intervene."