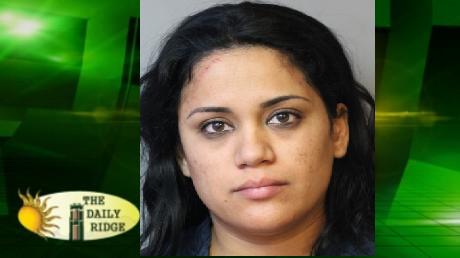 The PCSO Traffic Unit is investigating a two-vehicle crash that occurred on Winter Lake Road in Winter Haven last evening, March 8, 2016, resulting in the arrest of one of the drivers for DUI Manslaughter*, Vehicular Homicide*, and DUI with Property Damage.
The crash occurred around 11:35 p.m., in the westbound lanes of Winter Lake Road near the intersection of Thornhill Road. A black 2003 Infiniti being driven by the suspect, 30-year-old Susana Baldwin of Winter Haven, crashed into the rear of a black 2003 Mitsubishi being driven by 29-year-old Danny Miller of Lakeland, causing the death of Miller's passenger, 28-year-old Kellie McCain of Lakeland. Miller was treated and released from the hospital with minor injuries. Baldwin was treated at the scene for minor injuries, and placed under arrest. None of the parties involved were wearing seatbelts.
During the initial contact with Baldwin a strong alcoholic beverage odor was smelled from her breath along with slurred speech and bloodshot eyes. Baldwin also had a difficult time standing, but this could have been due to a knee injury sustained during the crash. According to the affidavit during the post-Miranda interview Baldwin stated she was the operator and sole occupant of her vehicle. She stated she had been at the Caribbean bar on Lake Howard Dr in Winter Haven across the street from Old Man Franks where she had consumed one beer at approximately 10pm and consumed no other alcohol. Baldwin stated she left the bar at approximately midnight and was headed home. Field sobriety tests were performed which Baldwin failed and she was placed under arrest. Baldwin was transported to Polk County Jail and received a consensual breath sample following all standard procedures. The results of this breath test show Baldwin at a .164 and .148 nearly three hours after the crash.
The investigation is ongoing.