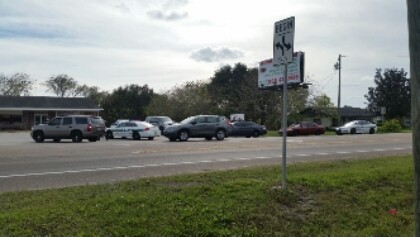 Dundee, Florida – According to the Polk County Sheriff's Office an unruly threatening child caused part of Dundee Rd. near Hwy 27 to be closed today. According to Donna Wood, PCSO spokesperson,  an unruly student riding a bus caused enough of a stir with threats to have the bus pull over and deputies called. The incident that occurred was resolved and no one was injured. Wood could not give further details. But threats were taken seriously and appropriate action was taken to insure the situation did not escalate. 
Daily Ridge has learned that the bus in question is a Polk County School Bus #0725. The students are from Don E. Woods Opportunity Center.
More than a dozen deputies were viewed  by witnesses at the scene. Traffic was blocked or diverted for around 30 minutes while deputies accessed the situation. 
More details will be forth coming if or when they are released.  Currently the situation has de-escalated