by James Coulter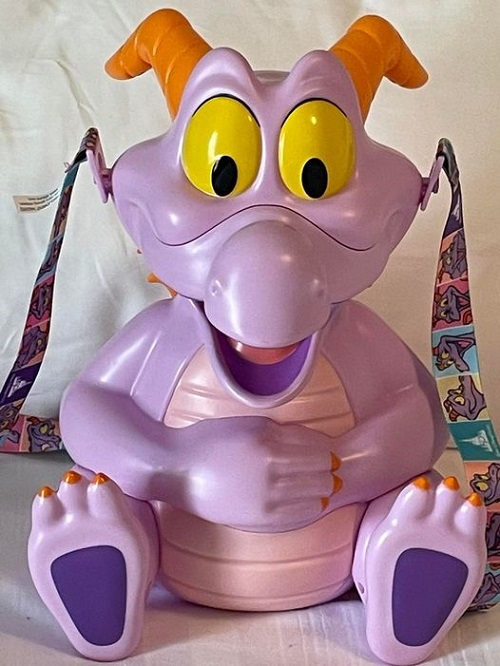 Have you ever read a news headline so mind-bafflingly bizarre that you had to double check to make sure you weren't reading something from The Onion? Because that's what I did when I stumbled across this headline: "Disney fans line up for seven hours to buy Figment popcorn buckets."
Yes, I checked. That wasn't a satirical article from The Onion. That was a real news headline from a real news story from a real news source. Disney Park guests are really standing in line for several hours to buy a popcorn bucket shaped like Figment.
At this point, you're probably asking one of two questions. First: "What? Really?!?" And: "Who the heck is Figment?"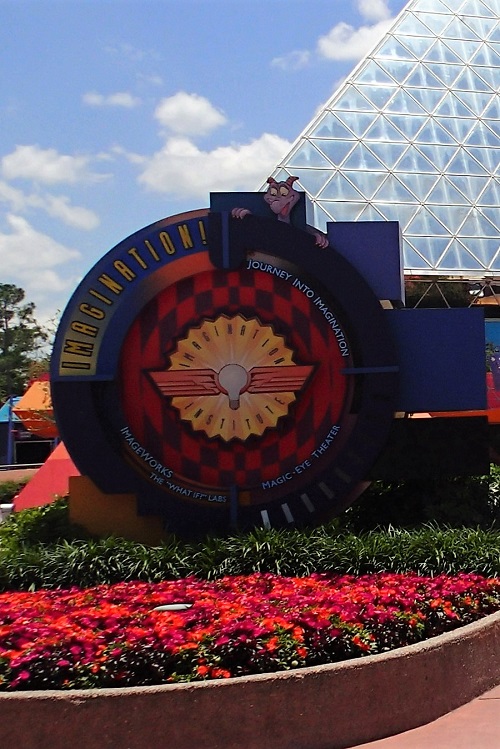 To answer your last question: Figment the Dragon is the mascot character for the Disney Epcot attraction, Journey Into Your Imagination. You'd be forgiven if you've never heard of it, even if you regularly frequent the park. The attraction itself rarely gets a line longer than 10 minutes, even on a busy day. And yet a popcorn bucket designed after the ride's mascot, which is currently being sold during Epcot's Festival of the Arts, has drawn in lines several hundred minutes longer.
How long are these lines? Disney Tourist Blog reports: "At its longest, the line stretched back to the Epcot Experience, going down the walkway pictured above, past the side of Test Track (by the Donut Box), along the side of Creations Shop, snaking up and down the walkway to World Showcase before winding back towards Journey into Imagination, and then up the path towards the Culinary Corridor where the Pop Eats Food Studio was located…Essentially, the line wound around the entire south half of Future World, taking up any walkway space that was available and wouldn't impede crowd flow."
Sources have claimed these lines could last anywhere between four to eight hours. In contrast, the longest wait times at the parks to date was 280 minutes (or nearly four and a half hours) for Star Wars: Rise of the Resistance on Christmas Eve, according to Disney Tourist Blog.
And yet people are willing to wait nearly twice as long in line, not for a ride, not for a character meet and greet, and not even for a doll or plush toy, but for a plastic container that carries popcorn. Because it's designed after a cult-favorite character from an attraction that barely receives any visitors.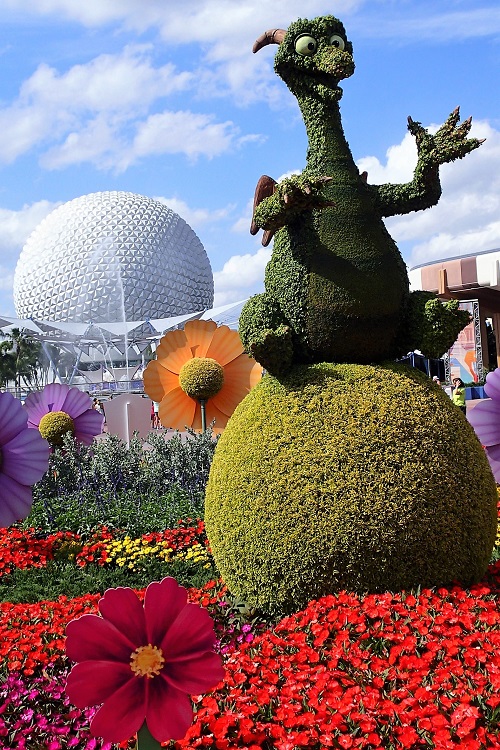 While a phenomenon like this seems perplexing, it's not exactly unheard of. Long lines are common at Disney, to the point where services like Disney Genie have been created to let guests pay to skip them. And Disney is known for releasing limited-time collector's merchandise for special occasions. So it should not be surprising that Disney guests are willing to stand in line for hours on end for a popcorn bucket.
Sadly, also not surprising, many of these people are not merely waiting hours in line so they could buy a purple dragon-shaped popcorn container for themselves. As the New York Post reports, many of these Figment buckets have appeared on on-line auction sites like eBay selling for as low as $90 to as much as $150 to $200. (The actual container costs $25!)
These "resellers", or "flippers", have become notorious in recent years for buying park merchandise, often rare collectors' items, only to later sell them on-line. As The Kingdom Insider reports, many of these resellers abuse the Annual Passholder discount to buy these items on the cheap and later resell them on Amazon or eBay for double or triple the sale price.
Perhaps most notorious have been pairs of 3D glasses taken from EPCOT's Remy's Ratatouille Adventure, which have appeared for sale on eBay for around $19.95, as reported by Inside The Magic. Yes, apparently some guests have ignored instructions to deposit these glasses into their bins after getting off the ride so they can make a quick buck! Fortunately, Disney has recently cracked down on resellers by limiting the purchase of many products to two per guest and revoking annual passes from offending guests.
Still, regardless of whether or not the guests waiting seven hours in line sincerely want a Figment bucket for themselves or to sell on eBay, there's no denying this level of demand has outpaced supply. Only three days after its initial premiere, a sign was placed outside the stall saying the bucket was unavailable, and even on days when the buckets have been available, cast members have reported they were "almost out of stock" and "cannot guarantee everyone waiting in line" a bucket, as WDW News Today reported.
Would you wait seven hours or more for a Figment popcorn bucket? Let us know in the comments below or on Facebook.