Frostproof Set To Celebrate 100 Years With Three-Day Event
by James Coulter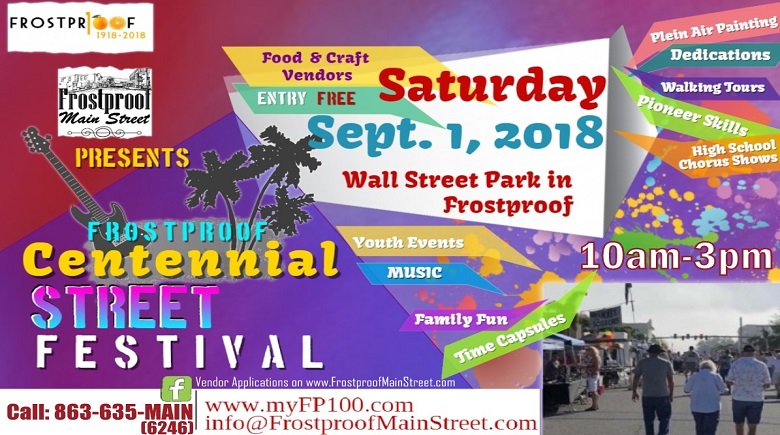 The small town of Frostproof will be turning 100, and everybody is invited to celebrate this milestone with a spectacular three-day event.
From Sat., Sept. 1 to Mon., Sept. 3, Frostproof will be celebrating its 100th anniversary with everything from parades, street festivals, fireworks, barbecue, fishing and boating competitions, and beauty contests.
The festivities kick off on Sat., Sept., 1, at 9:30 a.m. with a parade along Scenic Highway from 3rd Street to Devane Street.
The celebration continues through the afternoon with a street festival along Wall Street, which will feature various food and craft vendors, along with live musical performances and contests including pie-eating, melon-eating, and even greased pig-catching.
The very next day, Sun., Sept. 2, will allow guests to lick their fingers and their lips with good-old fashioned barbecue during Fire Up! Frostproof!, the city's inaugural Kansas City Sanctioned barbecue competition, at Henderson Field from 10 a.m. to 9 p.m.
That evening draws to a close with the awards ceremony for the barbecue contest, as well as a fireworks show over scenic Lake Reedy, the first ever fireworks display in the city within the past 8 years.
The three-day event concludes on Mon., Sept. 3, with a fishing contest and cardboard boat race at Lake Reedy in the early morning between 8 a.m. and 1 p.m., and the Miss Frostproof Competition later that evening at 4 p.m. within the Historic Auditorium.
Such a grand event for such a grand occasion clearly requires a lot of hard work and effort in order to organize it. Fortunately, both the City of Frostproof and Main Street Frostproof have been able to tackle such an effort through the collaboration of various local residents, explained Kelly Banks, Main Street Frostproof Executive Director.
"We want to showcase the best and brightest of Frostproof, showing everyone that is here all of the new things that are going on, as well as supporting the residents who have been here their whole lifetime," she said.
The biggest challenge thus far has been getting everyone involved with the event, both individual volunteers and local organizations, coordinated and working together.
Also challenging has been the promotion of the event, as much to local residents as well as potential guests from outside of the city.
"I am meeting new people every day that haven't heard about it," Banks said. "We have been doing everything we can to get it out."
For local residents, such a celebration will not only allow them to showcase their great city to visitors, but to also discover and learn more about their community and its rich century-old history.
Even as a fifth generation Frostproof resident herself, Banks has learned about her own hometown through the research she had done for the event, and she hopes that her fellow residents will learn as much during the upcoming event.
"I have been doing a lot of research to find photos and stories, there are some fascinating things that have happened in Frostproof and from here that we did not learn about growing up," she said. "It was cool to learn that stuff."
To learn more about the upcoming events and activities during the three-day celebration, visit their website at: http://www.myFP100.com.