Tennis Lovers Will Love To Love-Love On New Winter Haven Tennis Complex
by James Coulter
Joan Birkes, a Winter Haven resident, has been playing tennis for 40 years, but has developed a recent love for pickleball ever since joining the Auburndale Pickleball League, known as the "Pickleball Gang."
She and the 200 other members often play within the indoor courts of the Auburndale Community Center & Gym, but they now have a new playing location centrally-located within Winter Haven with the newly re-opened Tennis Court Complex.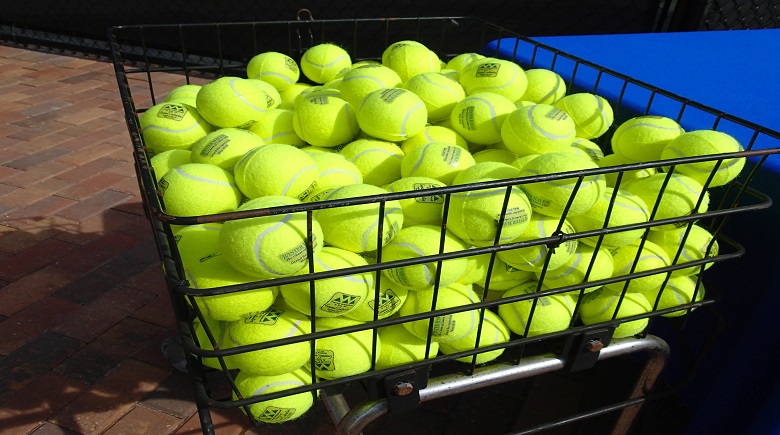 Most tennis courts are not often built to accommodate pickleball. The nets for tennis are higher, and the boundaries for pickleball are smaller and shorter than tennis, she explained.
But the newly-refurbished tennis complex in Winter Haven not only has eight clay courts for tennis, but a bank of courts made specifically for pickleball.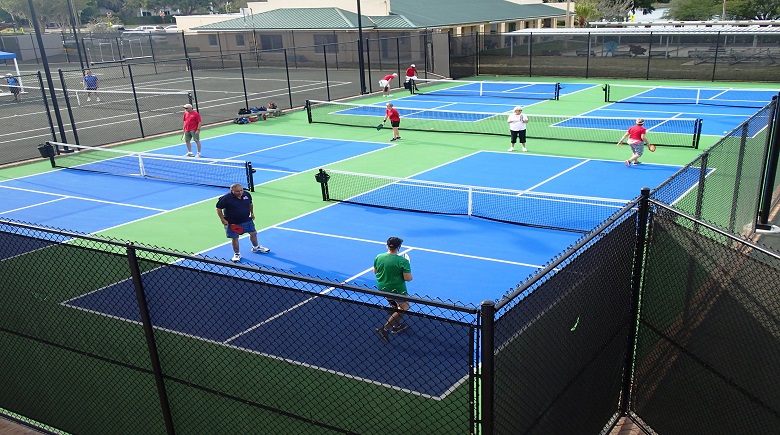 "We are celebrating because typically we have to play on courts that are built for tennis," Birkes said. "I found pickleball and love it because we laugh we act silly, it is great exercise, and it is just fun."
The Winter Haven Tennis Complex was officially dedicated and opened to the public during the grand re-opening and ribbon cutting ceremony last Wednesday evening on May 9.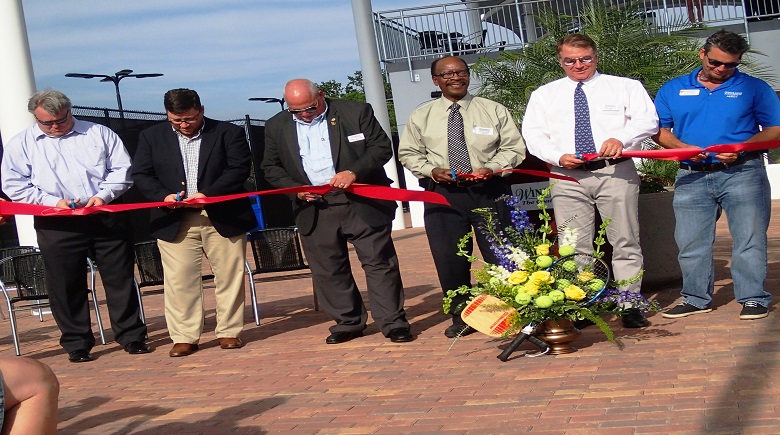 The newly-refurbished complex features eight clay courts, along with one instructional court and several smaller pickleball courts.
In the center of the complex stands a two-floor structure with an elevated observation deck on top and a pro-shop on the bottom, all of which is covered with a shading tarp nearly a block long, thus providing optimal shading and a panoramic aerial view of the entire complex.
The new complex will be used for various tennis classes and programs spanning ages young and old, from a USTA Net Generation class for ages 5-18, to adult drills for both men and women, as well as private and semi-private lessons, tournaments, and leagues.
The area on which the complex now stands was the original location of the Citrus Festival Grounds more than a century ago, and was even visited by President Calvin Coolidge on his way to the dedication of Bok Tower in 1929, explained Nathaniel Birdsong, Winter Haven Mayor Pro Tem.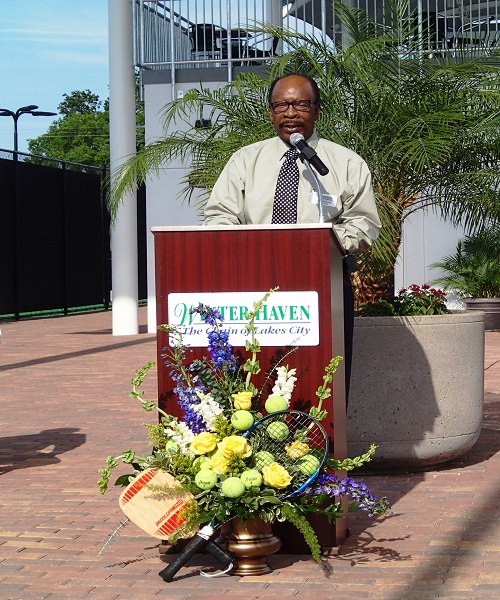 By 1937, both the city commissioners and Rotary Club set aside the land for recreational purposes, and the tennis complex was constructed and opened later in 1942, Birdsong said.
Originally, the tennis court had asphalt courts and coin-operated lighting, but renovations were eventually made, with the main building being remodeled in 1977. The complex had since not received any major refurbishments over the past 50 years.
The past 20 years has seen the downtown area make a comeback with new facilities ranging from Trailhead Park to the Splash Pad, with the tennis complex being the most recent refurbishment, Birdsong said.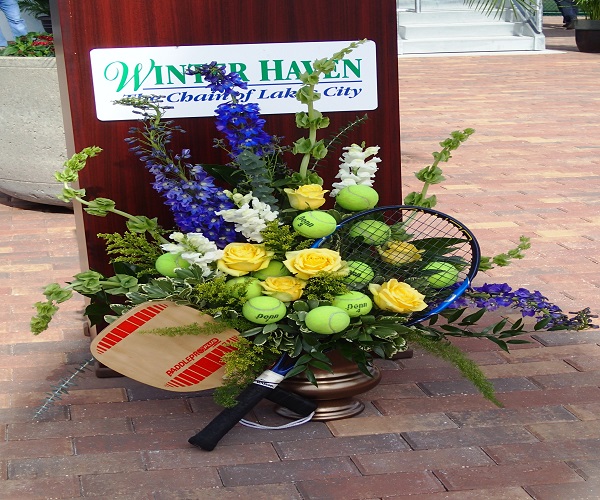 "For the past 90 years, many people have enjoyed the grounds of this part of town for recreation…[and] this complex with serve as an example of excellence for our community and Polk County for the next 90 years," he said.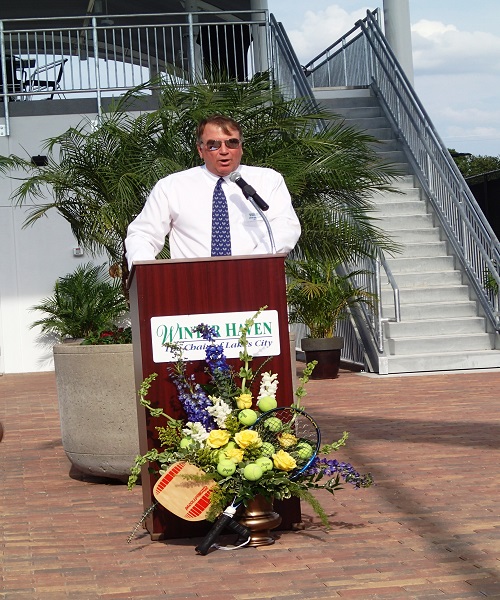 Mayor Brad Dantzler has been a supporter of the tennis complex refurbishment for many years, as he and his wife are avid tennis players, and even played one of the first matches together at the complex.
He remembers ten years ago when he received e-mails from city commissioners about why the complex needed to be refurbished, and he is now proud that those refurbishments have finally come into fruition.
His own family has been invested in the community's recreational facilities and overall well-being for generations, as his grandfather was a supporter of tennis and recreations back in the 1930s.
"I am proud to know that my family has been involved in Winter Haven and its quality of life more than 75 years ago," he said.
Refurbishments to facilities such as this are a mark of private investment within the downtown community, all of which will more than pay back in both economic development and overall higher quality living standards for local residents, he said.
"In addition to bringing tournaments, as businesses seek to relocate and prospective residents are looking for a new place to settle, I feel confident that they will be looking at our city as a place to be," he said. "I am thrilled that this has finally come into fruition, and I am ready to get this place open and dedicated."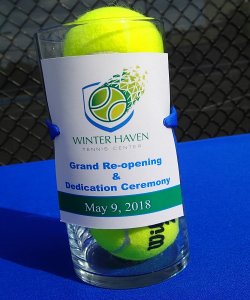 The Winter Haven Tennis Complex is located at 209 Avenue F NW, and is open to the public from 8 a.m. to 9 p.m., and weekends from 8 a.m. to 6 p.m.
For more information, visit the city's website at: http://www.mywinterhaven.com/parks-and-recreation/facilities-parks/winter-haven-tennis-complex/
Or visit their Facebook page at: https://www.facebook.com/CityOfWinterHavenTennis/