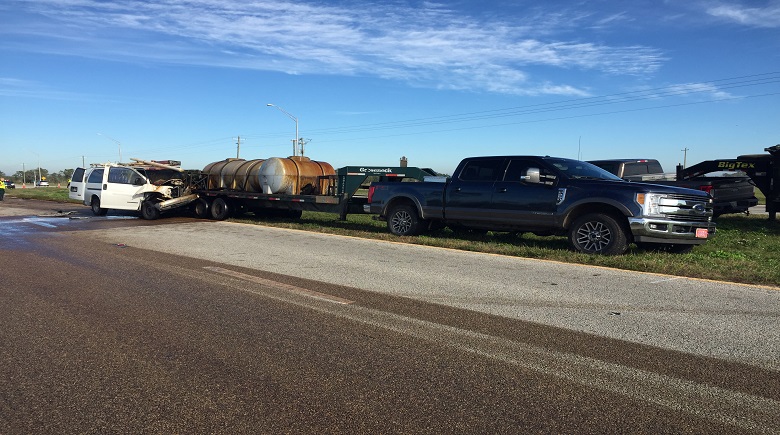 The Polk County Sheriff's Office responded to a two-vehicle crash this morning (Monday, November 27, 2017) at around 7:20 a.m., which resulted in the death of one person.
According to the preliminary investigation, a white GMC van was travelling eastbound on Hwy 60, and slammed into the back of a gooseneck trailer, which was being pulled by a blue Ford pickup truck. The truck and trailer had just completed an eastbound turn into the inside lane of Hwy 60 from Sam Keen Road. Evidence indicates that the van changed lanes from the outside to inside lane of Hwy 60 just before the collision.
The driver, and only occupant of the pickup truck, Cary Lightsey, 65, of Lake Wales, was wearing a seatbelt and was uninjured.  Michael Peterson, 50, of Lake Wales, was the driver and lone occupant of the GMC van. He had not been wearing his seat belt, and was pronounced deceased at the scene. A next of kin has been notified.
Lightsey's trailer was hauling two large tanks of molasses. Some of the molasses had spilled onto the roadway at the crash scene, and had to be cleaned up from the roadway. Traffic was affected for approximately six hours during the investigation and clean up.
The road in this area is straight, with a speed limit of 65 mph. Impairment and visibility do not appear to factor into the crash. This investigation is ongoing, and will determine if Mr Peterson's speed or driver distraction may have been a cause.