Local Fire Captain Receives National Designation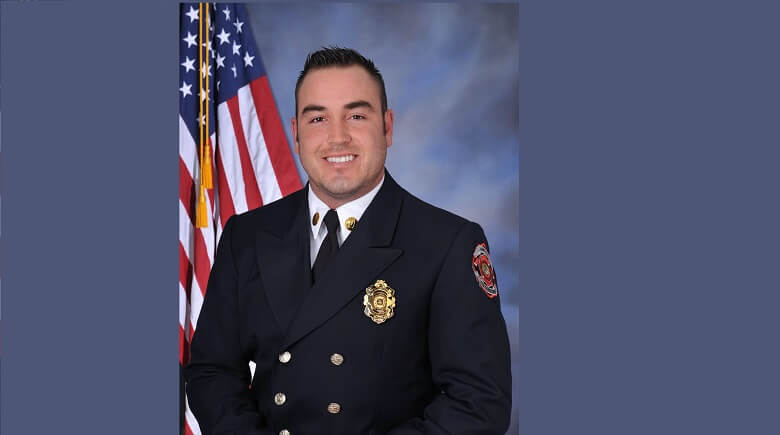 Haines City, FL – Haines City Fire Captain, Ryan Russell, received confirmation of his designation as "Fire Officer" (FO) from the Commission on Professional Credentialing (CPC), after completing an International Professional Designation Process. In March of this year,Russellwas also accepted into theManagingOfficer Programat theNational Fire Academy.
Russell, a 10-year veteran of the fire service with more than a year with Haines City Fire Department (HCFD), successfully completed the process that awards the professional FO designation. The CPC, an entity of the Center for Public Safety Excellence (CPSE) that meets quarterly to confer professional designations. Russell was conferred in March 2017.
"The FireOfficer designation is a professional accomplishment for aspiring officers," said Haines City's Interim Fire Chief, Timothy Mossgrove. "Captain Russell is the second Fire Officer in Polk County to receive the designation and is currently one of only around 350 worldwide."
The FO designation program uses a comprehensive peer review model to evaluate candidates seeking the credential. The CPC awards the FO designation only after an individual successfully meets all of the organization's stringent criteria. The process includes an assessment of the applicant's education, experience, professional development, technical competencies, contributions to the profession, and community involvement. In addition, all applicants are required to identify a future professional development plan.
"Representing the Haines City FireDepartment on a national level is an incredible honor," said Russell. Going through this process has been the most stringent credential I have accomplished in my professional career to date. To be among the select few fire service professional who achieve this designation is truly a humbling experience.
In addition to successfully achieving the FO designation, Russell has set his sights within the next year to enter the elite Managing Officer program at the National Fire Academy in Emmetsburg, Maryland.
The Managing Officer program is a nationally funded program through the US Fire Administration and offered at the National Fire Academy. The intensive Managing Fire Officers Program is designed to provide mid-level fire officers with a broad perspective on various facets of fire administration. The Program consist of four courses spread over a 2 year period, that require a capstone project to demonstrate application of course theory and concepts and real life situations within the students organization.
"We are very proud of Captain Russell," said Mossgrove. I have known him since the beginning of his fire service career and have been impressed with the determination and drive he has with professional development, and for members he manages. With this enthusiasm and energy is tremendous and he is well deserving of the Fire Officer designation.