FWC adds new category to Florida Saltwater Fishing Records program
The Florida Fish and Wildlife Conservation Commission (FWC), in collaboration with the International Game Fish Association, maintains state all-tackle records for the heaviest marine fishes caught in Florida waters, including 77 species in both conventional tackle and fly-fishing categories.
Recently, a new category for kingfish (whiting), which includes species in the Menticirrhus family, provides an additional challenge for anglers. Kingfish (whiting) caught after June 30, 2017, are eligible for state record submission. Also, three new Florida saltwater state records were approved in the past year, including a 33-pound, 8-ounce almaco jack caught by Thomas Milliren; a 6-pound, 3-ounce vermilion snapper caught by Dawn M. Delisle; and a 26-pound horse-eye jack caught by Sharon Kartrude Pryel (view current records at CatchaFloridaMemory.com by clicking on "Programs," "Florida Saltwater Fishing Records" then "2016-2017.")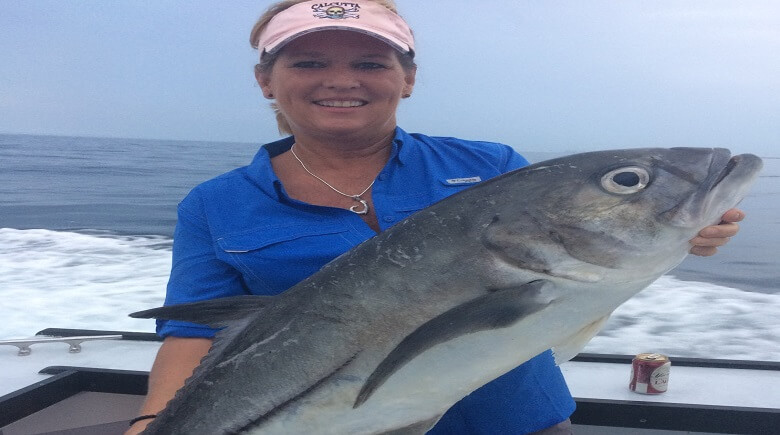 Photo caption: Sharon Kartrude Pryel recently caught the state record for horse-eye jack with this 26-pounder.
Several new saltwater world records were caught in Florida in the past year, including a junior record for permit; all-tackle records for black grouper, mahogany snapper and yellowtail snapper; and line-class records for Florida pompano, spotted seatrout, gray snapper, black drum and red grouper. Visit IGFA.org for a complete list of saltwater world records.
To qualify for the Florida Saltwater Fishing Records program, catches must be made according to FWC and IGFA angling rules. The application must be accompanied by line or tippet samples and photographs as specified in the IGFA world record requirements. Species that pose a problem of identity require determination by an ichthyologist or qualified fishery biologist. Visit the International Game Fish Association website, IGFA.org, to learn more about requirements.
Currently, there are a number of fish in the Florida Saltwater Fishing Records program with records not yet claimed including two in the conventional tackle category and 26 vacancies in the fly-fishing tackle category. The IGFA verifies state records in Dania Beach. For more information on the Florida Saltwater Fishing Records program, visit CatchaFloridaMemory.com and click on "Programs" and "Florida Saltwater Fishing Records" or contact [email protected].
Florida Saltwater Fishing Records are part of FWC's Saltwater Angler Recognition Programs. Anglers can gain recognition for catching record-sized fish and by participating in other programs, including Saltwater Fish Life List, Saltwater Reel Big Fish and Saltwater Grand Slams. These programs recognize anglers for their fishing efforts while encouraging them to target a diversity of species and strengthening marine fisheries conservation ethics. Programs are free, available year-round, and open to all ages and experience levels. To learn more, visit CatchaFloridaMemory.com.