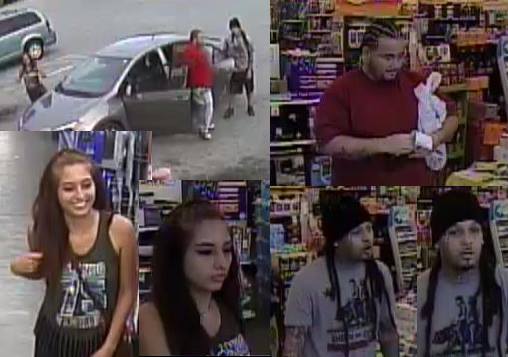 Polk County Sheriff's Facebook Post
Hey social media sleuths – you complain when we put photos here that aren't great – well these are pretty darn good.
Do you know these three thieves? This trio traipsed into the Family Dollar store on 3rd Street in Wahneta on June 20th, took some things (white shirt, yoga pants, cap gun & cap gun rings), then took off in a Toyota Corolla.
Actually, no – the guy with the dreadlocks saw the store manager confront his friends in the car, so he walked the other way & hid the stuff he stole behind a bush, then fled on foot. His friends left in the car.
It's not the crime of the century, but being the trained investigators we are, we know that people who shoplift aren't exactly rule-followers, and tend to commit other crimes as well. And, nobody likes a thief.
If you recognize these folks, please call Detective Marin at 863-678-4115.
ANYONE WITH INFORMATION WHO WANTS TO REMAIN ANONYMOUS AND BE ELIGIBLE FOR A CASH REWARD IS ASKED TO CALL HEARTLAND CRIME STOPPERS AT 1-800-226-TIPS or LOG ONTO www.P3tips.com to submit your tip via the web. For a secure and password protected mobile app for your smart device, go to the app store and download the free "P3tips" mobile app. No caller ID, no recorded lines, no tracking cookies, no saved IP addresses. ANONYMITY IS GUARANTEED!