Three Winter Haven teens are in custody on multiple felony charges for a stolen vehicle and numerous vehicle burglaries.
Two of the teens, 16 year-old Kejontaya Commings  (DOB 06/21/00, Winter Haven) and 16 year-old Deonte Jordan (DOB 05/10/01, Winter Haven ) were taken into custody today at Winter Haven High School after officers were investigating their possible involvement in the overnight burglaries and stolen vehicle.
Officers also learned that Jordan possibly had a handgun on him while at the school. As officers encountered Jordan in the classroom, he attempted to run from officers. Jordan kicked, attempted to bite and elbowed officers causing one officer to have a slight injury to his shoulder as the two fell to the ground. The officer did not suffer significant injuries.
A pink handled .380 caliber pistol that was taken from one of the vehicle burglaries was located in Jordan's backpack in his possession at the school. Commings was also interviewed and taken into custody without incident for his involvement in the overnight crimes.
A third teen, 17 year-old Shantavius Streeter (DOB 2-6-00, Winter Haven) was taken into custody overnight after he was located in a field near where the stolen car was crashed off of Clubhouse Road in Winter Haven.
The events occurred as follows:
On 5-26-17 at approximately 2:15 a.m., officers patrolling the area off of Country Club Road encountered a vehicle travelling at a high rate of speed without any headlights on. The officer activated his emergency equipment in an attempt to make a lawful traffic stop, however the vehicle failed to stop. The officer turned off his overhead emergency lights and turned around to head in the opposite direction.
Approximately 10 minutes later, another unit patrolling in the area located the stolen vehicle crashed into a fence off the roadway along Country Club Rd. with the driver's door open and still running. Officers had requested the PCSO helicopter when the vehicle fled from them. As the helicopter located the stolen vehicle, the pilot was able to radio information on where the suspect was and items he was throwing in the field near where the car was located.
17 year-old Shantavius Streeter was located in the field and taken into custody without further incident. Officers recovered a loaded handgun in the field along with a pair of gloves. The handgun was confirmed as one of three handguns taken from the earlier vehicle burglaries along Lyndsey Lane. The stolen vehicle, a red Dodge Magnum, was also taken from Lyndsey Lane in the Savannah Estates subdivision.
Further investigations through the early morning hours, Winter Haven Detectives learned that Jordan and Commings were possibly involved. Detectives located both students at Winter Haven High School where they both were ultimately arrested.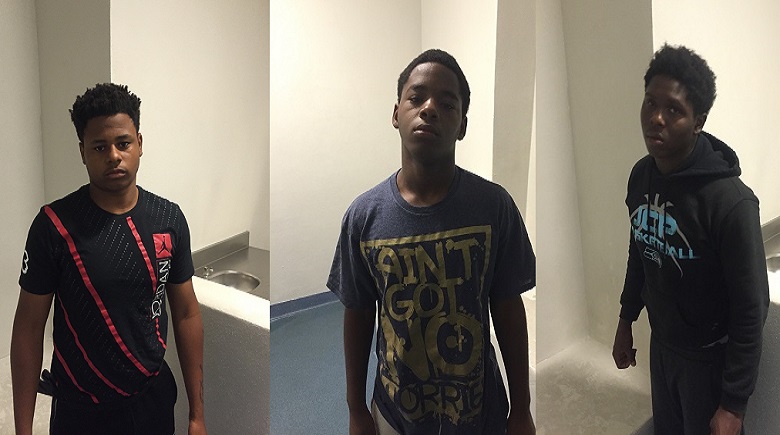 Commings                                                       Jordan                                                Streeter
Charges for the teens are as follows:
Deonte Jordan:  (19 felonies)
Attempted Burglary Conveyance x 8
Burglary Conveyance
Grand Theft Auto
Armed Burglary Conveyance x 2
Grand Theft Firearm x2
Poss of firearm by adjudicated delinquent
Battery on LEO
Resisting w/Violence
Carry Concealed Firearm
Possession of firearm on school property
Kejontaya Commings: (15 felonies)
Attempted Burglary Conveyance x 8
Burglary Conveyance
Grand Theft Auto
Armed Burglary Conveyance x 2
Grand Theft Firearm x2
Grand theft Auto
Shantavius Streeter: (19 felonies)
Armed Burglary Conveyance x 2
Grand Theft Firearm x 2
Grand Theft Auto
Armed Trespassing
Possession of Burglary Tools
Possession of firearm by adjudicated delinquent
Attempted Burglary x 8
Burglary (Conveyance)
Tampering w/ Evidence
Violation of Probation