SURGICAL OFFICE HOLDS RIBBON CUTTING AT LAKE WALES MEDICAL CENTER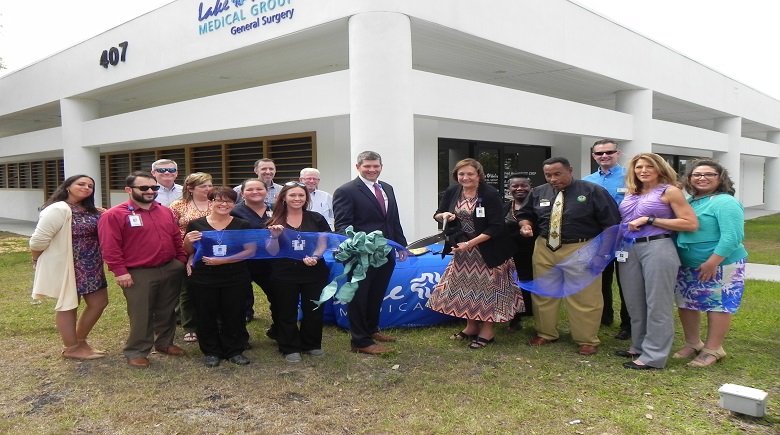 Lake Wales, FL – The General Surgery office of Lake Wales Medical Group held a Ribbon Cutting ceremony recently at its new location, 407 S. 11th St. in Lake Wales. Staff and administrators from the hospital, Lake Wales Medical Group, and the Greater Lake Wales Chamber of Commerce were in attendance.
The new General Surgery office space is home to general surgeons Dr. Fred Silvestri and Dr. Fred Howard, and Gastroenterologist Dr. E. Moshe Izsak, all of whom are members of the medical staff at Lake Wales Medical Center.
"This new office space allows us to bring the talents of all three of these surgeons together in one place to see patients in a location that's close to the hospital," said Greg Hall, Director of Physician Practices for the hospital. "It's a nice modern office space that allows us to deliver enhanced services to our patients."
For more information about Lake Wales Medical Group and its physicians, visit www.LakeWalesMedicalGroup.com. Several of the physicians offer online appointment bookings, and same-day or next-day appointments often are available.
Photo information: Lake Wales Medical Group staff and board members from the Greater Lake Wales Area Chamber of Commerce watch as hospital CEO Rebecca Brewer and practice manager Greg Hall cut the ribbon for the new office location for Lake Wales Medical Group's surgeons.