The PCSO Traffic Unit is investigating a four-vehicle traffic crash in Lake Wales – preliminary information so far is as follows:
Around 12:00 p.m. (noon) on Monday, May 15, 2017, on SR 60 East near CR 630 near Indian Lake Estates, a blue 2009 Volvo semi tractor-trailer, a black 2010 Kia Rio, and a white 2005 semi tractor-trailer, were traveling westbound on SR 60 in that order when the blue semi began braking to slow down, due to traffic up ahead.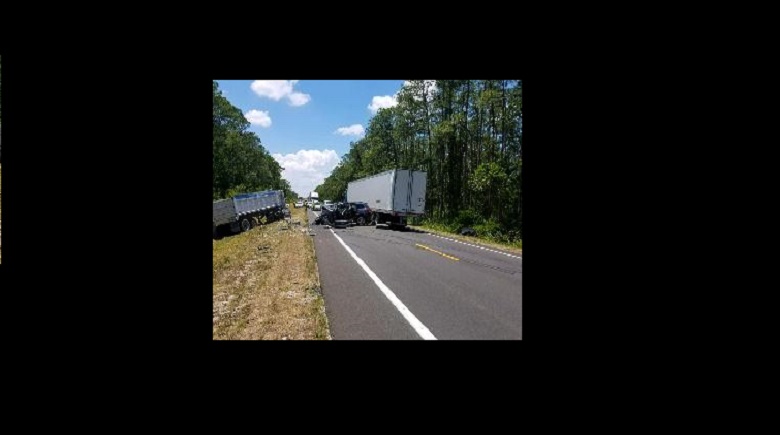 The Kia also began to slow to a stop.
The white semi behind the Kia began braking, and locked up its brakes, striking the Kia (rear-ending it) and forcing the Kia off the road and into a drainage ditch.
After striking the Kia, the white semi then veered into the eastbound lane and jack-knifed, and was then struck by a grey 2017 Jeep Grand Cherokee that was heading eastbound.
The driver of the blue Volvo semi, 53-year-old Sergey Zhuklevich (male) of North Port, was not injured.
The driver of the Kia, 22-year-old Shannon Reid (female) of Vero Beach, suffered non-life-threatening injuries.
The driver of the white semi, 53-year-old Gil Samuel Ramirez-Cabrera (male) of Tampa, suffered minor injuries.
The driver of the Jeep Grand Cherokee suffered serious injuries and was airlifted to Osceola Regional Medical Center. That driver's name will be released once deputies make next of kin notification.
The roadway in that area is still shut down and traffic is being directed around it.
We will update you when Traffic is flowing again.
The investigation is ongoing.
Sponsored by: