Community Organizers Hosting Free
Moonlight & Music Outdoor Cultural Event in Fort Meade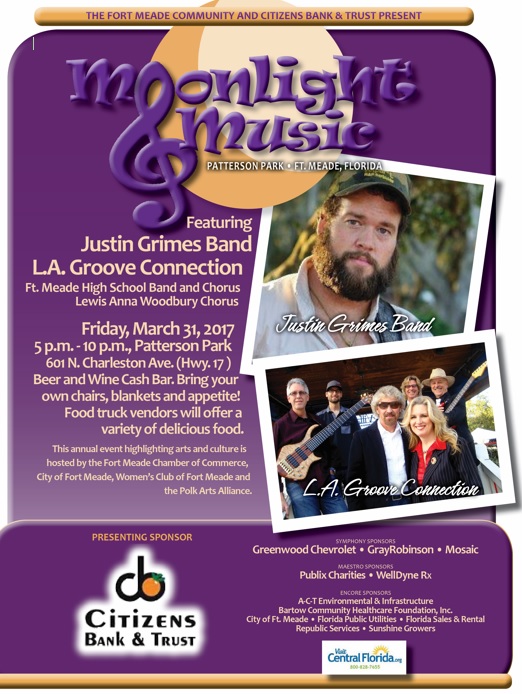 Fort Meade, FL (Mar. 24, 2017) —The Fort Meade Chamber of Commerce and Citizens Bank and Trust join forces with the City of Fort Meade, Women's Club of Fort Meade, the Polk Arts Alliance and community sponsors to host the 3rd annual Moonlight & Music outdoor cultural event. The free event is set for Friday, March 31, at 5:00 p.m. in Patterson Park on U.S. Highway 17 (601 N. Charleston Ave.) in Fort Meade.
Attendees will enjoy a blend of music delivered by local and touring artists including classic country rock and 60s, 70s & 80's harmony. There's truly something for almost every music lover – all at no cost. Featured artists include Fort Meade's own Justin Grimes Band and Ocala's well-known L. A. Groove Connection. Additionally, the event organizers partnered with Lewis Anna Woodbury Elementary and Fort Meade High School to have their band play and choruses sing as guests arrive.
Local artists and authors will be on hand with their works.  Some items will be available for purchase.
At the event, you can purchase food and beverage provided by various restaurant vendors, including local faves Classic Pizza, Mary Lou's Tex-Mex, BBQ by Big JD's Grill, and more.  Beer and wine will also be offered for sale on site and must be purchased from the official event vendor.
Page 1 of 2
MOONLIGHT AND MUSIC
Page 2 of 2
County Commissioner Melony Bell, one of the event's organizers and Fort Meade resident, has said, "We are excited to bring a first-class arts and culture event to Fort Meade for the enjoyment of our residents, but we have also promoted the event in Highlands, Hardee, Hillsborough, and other counties to introduce folks from those areas to a progressive and beautiful Fort Meade in a setting they will remember fondly, long after the last note of music is played."
In addition to the presenting sponsor, CITIZENS BANK & TRUST, other sponsors are signing on daily. Already the list includes: Greenwood Chevrolet, GrayRobinson, Mosaic, Publix Charities, and WellDyne Rx.  Additional sponsors include A-C-T Environmental & Infrastructure, Inc., Bartow Community Healthcare Foundation, Inc., City of Fort Meade, Florida Public Utilities, and Republic Services.  In addition, other sponsors include Florida Sales & Rental, Sunshine Growers, and Dixie Signs.
If you go:  Feel free to bring a blanket or chairs for your comfort during the evening and bring or purchase food for the event.  No alcoholic beverage are permitted except those purchased from the on-site beer/wine vendor.  Free parking is available, including a designated area for disabled parking.  Most parking is adjacent to the park but latecomers may have to park in more remote lots, so please plan accordingly.   Limited golf cart transportation is available from most parking areas.
"Last year's event drew approximately 500 attendees, and we expect an even bigger turnout this year – largely due to our multi-county promotional efforts and word of mouth testimonials from those who came and enjoyed it in 2016," said Bill & Suzie Whitener, co-directors of the Fort Meade Chamber of Commerce.  The Whitener's added, "Plan to come early and stay late.  There's quality entertainment scheduled throughout, and you won't want to miss a minute of all that's in store for you under the stars in Fort Meade."
For more information or to express interest in sponsorship, see the Facebook event page, Moonlight and Music 2017, email us at [email protected], or call the        Ft. Meade Chamber of Commerce at (863) 285-8253.