Former PCSO Civilian Detention Clerk Arrested for Sexual Misconduct With Inmate in 2015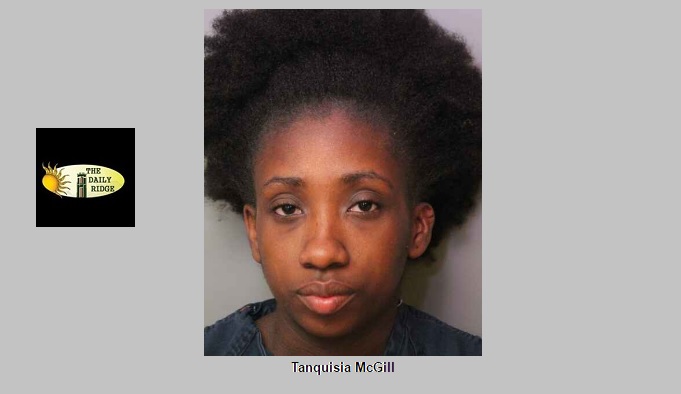 On Thursday, February 16, 2017, PCSO deputies arrested 21-year-old Tanquisia McGill of Lakeland, for one count Sexual misconduct between detention facility employees and inmates (FSS 951.221) (F-3), one count Interference with county prisoners (FSS 951.19) (M-2), and one count Culpable Negligence (FSS 784.05) (M-2), after investigation revealed that she had consensual sexual intercourse with a South County Jail inmate on one occasion in December 2015, that resulted in the conception of a child.

The inmate, Johnathan Lott (DOB 3/26/1996) was arrested by the Lakeland Police Department in 2015 for several charges related to a traffic fatality, for which he was indicted by the grand jury. In January 2016, he was convicted and sentenced to 25 years in prison.

 
According to the affidavit  in December 2015, McGill allowed Lott out of his cell and into an area where she was working, and they had sex. He was transferred to Santa Rosa state prison in February 2016. The baby that was conceived was born in September 2016.  McGill has maintained a relationship with Lott through telephone calls, which was recently reported to PCSO. 

Deputies immediately began an investigation, and during a post-Miranda interview, McGill confessed to the sexual misconduct inside the jail. 

McGill told detectives she listed Lott as the father on the child's birth certificate.
McGill was hired by PCSO in October 2014 as a Detention Support Specialist, working in the South County Jail in Frostproof. She was paid an hourly rate of $13.23. She resigned from PCSO upon her arrest – had she not resigned, she would have been terminated.
The following is an excerpt from her affidavit, and is self-explanatory:
The suspect intentionally and unlawfully engaged in sexual misconduct with an inmate at the Polk County Sheriff's Office, South County Jail Facility by having sexual intercourse with inmate Johnathan Lott (booking #14-20020). At the time of this incident, the suspect was employed by the Polk County Sheriff's Office as a Detention Support Specialist and her duty station was the South County Jail. Inmate Lott was booked into the Polk County Jail on 09-22-14 and remained at the facility until 02-08-16 when he was transferred to Santa Rosa Correctional Institute to serve a prison sentence after he was convicted.
The suspect became pregnant due to her sexual misconduct with inmate Lott and the child was born on 09-04-16. The child shares inmate Lott's last name and inmate Lott is listed as the father of the child on the birth certificate.
A post Miranda interview was conducted with the suspect concerning this incident. The suspect advised that she started a romantic relationship with inmate Lott, while he was incarcerated. The suspect stated that on one occasion, she let inmate Lott out of his secured sleeping cell and allowed him to come into the control room with her to have sex. She became pregnant from the one incident of sexual intercourse.
Through this investigation, it has been determined that the suspect committed sexual misconduct by a detention employee, by having sexual intercourse with inmate Lott. The suspect also interfered with county prisoners by inciting inmate Lott to be disobedient.  This was done when she unlawfully allowed inmate Lott out of his secured cell and into the housing dorm.  She then allowed inmate Lott access into a secure control room, where the two engaged in sex.  Inmates are not allowed in the control rooms.  The suspect engaged in sexual intercourse with inmate Lott, while the Detention Deputies were serving meals to inmates in the other dorm. This act exposed the Detention Deputies as well as other inmates to injury due to the fact that the suspect was responsible for control of all locking mechanisms for all of the cells in the dorms and was not able to properly observe the housing area, Detention Deputies or other inmates. The act of allowing inmate Lott into the control room, gave inmate Lott direct access to the same electrical controls to all of the doors as well as intermediate weapons and keys to the facility.
The suspect was arrested and charged with sexual misconduct by a detention employee with an inmate, interference with county prisoners and culpable negligence.