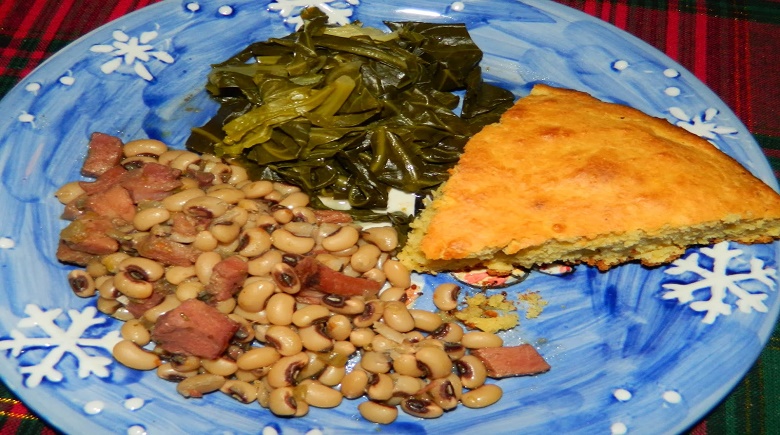 These two Southern classics all but guarantee a prosperous year. Some say the greens represent dollar bills and the peas, coins, ensuring wealth and luck.
According to folklore, this New Year's Day tradition dates back to the Civil War, when Union troops pillaged the land, leaving behind only black-eyed peas and greens as animal fodder. Rich in nutrients, these were the humble foods that enabled Southerners to survive. Details of stories differ, but each celebrates a communion of family and friends bound by grateful hearts and renewed hope for good things yet to come.
Black Eyed Peas Recipe
Ingredients
2 1/2 pounds fresh black-eyed or pink-eyed peas, shelled (3 cups)*
2 large beef bouillon cubes
1/2 (16-ounce) package kielbasa, sliced, browned, and drained (optional)
Bring first 4 ingredients and, if desired, sausage to a boil in a saucepan. Reduce heat; simmer 40 minutes or until tender. Serve with Sweet Onion Relish.
*1 (16-ounce) package frozen black-eyed peas may be substituted. Reduce cooking time to 30 minutes or until tender.
Southern-Style Collard Greens
 Ingredients
12 hickory-smoked bacon slices, finely chopped
2 medium-size sweet onions, finely chopped
3/4 pound smoked ham, chopped
6 garlic cloves, finely chopped
3 (32-oz.) containers chicken broth
3 (1-lb.) packages fresh collard greens, washed and trimmed
1/3 cup apple cider vinegar
1. Cook bacon in a 10-qt. stockpot over medium heat 10 to 12 minutes or until almost crisp. Add onion, and sauté 8 minutes; add ham and garlic, and sauté 1 minute. Stir in broth and remaining ingredients. Cook 2 hours or to desired degree of tenderness.