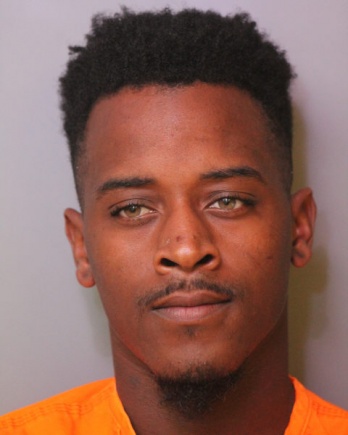 Winter Haven, Florida – A Winter Haven man is in jail for occupied burglary after he broke into a home while an 18 year-old woman was inside.
On 11-14-16 at approximately 11:10 a.m., 18 year-old woman was inside of her residence watching television in a bedroom when she heard someone knocking on the front door. She looked out of a window and saw a dark-colored car in front of the home. She didn't open the door, but went back to the bedroom to continue watching television.
Shortly after, she heard the sound of glass breaking from the back part of the residence. When she entered the hallway to see where the noise came from, she saw two black males entering a back door. She immediately ran out of the front door to a neighbor's home where she called 9-1-1.
Winter Haven officers were in the area and immediately responded and saw the back door of the residence open up and 23 year-old Eric Marquet Ellison (DOB 6/8/93, 1681 32nd St NW, Winter Haven) run outside. Officers commanded him to get on the ground, but Ellison continued running. Two officers were able to catch Ellison and ultimately make the arrest after he resisted multiple times, eventually forcing officers to utilize their electronic control device (Taser) in order to place handcuffs on him.
After being searched, Ellison, who was wearing rubber gloves, was found to have multiple items inside of his pockets from the residence to include a television remote and two small jewelry boxes with multiple bracelets, necklaces and pairs of earrings inside. After a search of the residence, one television was located near the back door and another was unplugged and turned sideways on its shelf. The remote in Ellison's pocket belonged to one of the televisions inside of the home.
At this time, the other suspect who fled the residence was not located. Ellison, who has a criminal history to include Trespass (X2), Unlawful entry on Property, Criminal Mischief, Assault, Affray, Petit Theft and Attempted use of Fraudulent Credit Card was booked into the Polk County Jail on the following charges:
Burglary of an Occupied Dwelling (F1), Grand Theft from a Dwelling (F3), Possession of Burglary Tools with Intent (F#), Conspiracy to Commit Burglary (F3), Criminal Mischief (M2) and Resisting an Officer W/O Violence (M1).
"The quick thinking of the victim to run to a neighbor coupled with the immediate response of our officers was paramount in making this arrest," said Chief Charlie Bird. "I cannot emphasize enough to our citizens that if someone knocks on your door, announce your presence even if you do not intend on opening the door. If you see the person and feel uneasy, we encourage a call to have us come investigate."