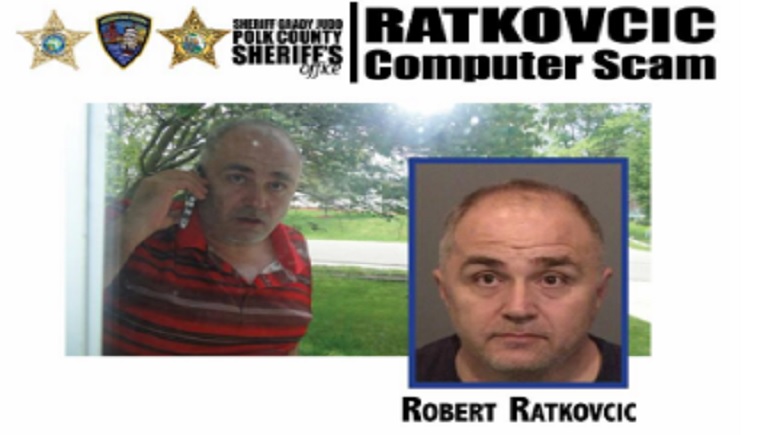 On June 17, 2016, a 71-year-old Lake Wales man reported to the Polk County Sheriff's Office that he believed he was the victim of a money transfer scam where scammers tricked him into mailing thousands of dollars' worth of MoneyGram money orders overseas. PCSO detectives began an investigation that resulted in a warrant for the arrest of 49-year-old Robert Ratkovcic of 14043 Osprey Links Road, #386, Orlando on fraud, grand theft, and money laundering charges. Ratkovcic is currently in custody in the Marin County Jail, San Rafael, California on fraud and grand theft related charges from the Sausalito Police Department (California). Ratkovcic's Polk County arrest warrant is a result of a joint investigation between the Polk County Sheriff's Office, Sausalito Police Department (California), and the Orange County (Florida) Sheriff's Office.
"These scammers are disgusting in how they take advantage of people, often seniors, stealing tens of thousands of dollars. They appeal to seniors' honesty, not greed. They trick people into believing that they have been overpaid, then they deceive them into sending them their hard earned savings. I don't understand how these thieves can live with themselves." – Grady Judd, Sheriff
Detectives determined that the victim responded to a pop-up advertisement on his personal computer to purchase an anti-virus software package for $499.99. After the software was loaded onto his computer, the victim began having computer problems and believed the software he had purchased was not operating properly. (Detectives believe this scam may also be related to a bogus "Free Windows 10 upgrade" scam that has also been prevalent on the Internet.) The victim contacted the company that sold the virus protection software, identified as "Computer Tech-Help.com."
In early June the victim received a call from a man who identified himself as Alan Brown, saying he was from Computer Tech-Help.com who requested remote access to his computer to "repair" the computer/software issue. On June 6th, 2016 he received another call from Alan Brown who informed him he was entitled to a refund of $500.00 due to the computer problems he encountered. During this phone call, Alan Brown obtained the victim's banking information to facilitate the refund.
Instead of receiving $500.00 for the refund, $5,000.00 was deposited into the victim's personal banking account. It was later discovered these funds were transferred from the victim's own money market account into his checking account. The victim did not notice this transfer at the time.
The victim was told not to use his computer to allow for the repairs over the next week. The victim was directed to purchase money orders at local Walmart stores to refund the "accidental" overpayment to his account. Genuinely believing that an overpayment was made, the victim obtained money orders and sent them to Bangkok, Thailand.
The victim was told by Alan Brown and another man who identified himself as Mark Anthony that more deposits associated with the overpayment to the victim's account required repayment to various parties in Thailand.
Between June 6th, 2016 and June 17th, 2016, the victim had a total of $44,900.00 transferred from his money market account to his personal checking account without his knowledge or permission.  The suspect(s) made two cash advances from the victim's credit card account totaling $8,000.00 depositing them into the victim's checking account. A total of $52,900 was transferred into the victim's account without his knowledge.
Also between June 6th, 2016 and June 17th, 2016, the victim purchased 22 MoneyGram money orders from two separate Walmart stores (Lake Wales and Winter Haven) in Polk County.  The victim sent a total of $51,600 in money orders to Thailand and paid an additional $1,032 for the MoneyGram money orders. The Lake Wales Wal-Mart questioned the large amounts going to Thailand.  After telling one of the suspects about Walmart questioning him, the suspect told the victim to go to another Walmart, which he did.
In interviews with detectives, the victim acknowledged that he was concerned each time he was told about the transfers of money into his checking account, but because he had no access to his online accounts because of his computer malfunctioning, he was not aware of the internal transfers. He had contacted his bank (SunTrust) and verified that money was being deposited into his checking account.
On June 10th, the victim was contacted by phone and was told that a person by the name of Robert would come to his home to "recover" $10,000 in person. On June 13th "Robert" came to his home and the victim hand delivered a total of $10,000.00 cash to the man. The victim looked at the man's driver's license to confirm that he was who he said he was. The victim later told detectives he could not remember the man's last name, but that he had an accent and that he was not one of the people he talked to on the phone. This suspect was later identified as 49-year-old Robert Ratkovcic of 14043 Osprey Links Road, #386, Orlando.
On July 27th, 2016, the Sausalito Police Department in California was made aware (by staff at Wells Fargo Bank) of a similar scam occurring in their jurisdiction. The elderly victim in that case had sent approximately $116,000 to a man by the name of Robert Ratkovcic. The victim in their case was supposed to meet a man that was coming to the victim's house to pick up additional money on behalf of "Alan Brown and Mark Anthony."
On July 30th, 2016, Robert Ratkovcic was arrested in Sausalito, California when he showed up at the victim's home in California. The Sausalito Police Department's investigation led them to contact Polk County detectives because of matching suspect telephone numbers involved in the two cases. Sausalito PD provided their jail photo of Ratkovcic to detectives in Polk County. PCSO detectives met with the Lake Wales victim and he positively identified Ratkovcic as the suspect who he gave $10,000 at his residence. Sausalito PD has also identified another victim in Columbia, Missouri and they have provided the information to detectives in Missouri.
On August 10, 2016, working with PCSO detectives, the Orange County (Florida) Sheriff's Office obtained a search warrant for Ratkovcic's apartment in Orlando. The two agencies are working together to review recovered evidence. PCSO detectives have discovered at least two other possible Polk County victims in the scam. Other possible cases/victims in Florida are being investigated. Additional charges on Ratkovcic are likely.
PCSO detectives obtained an arrest warrant for Ratkovcic, charging him with grand theft ($20k or more), utilizing a computer to commit fraud, money laundering and scheming to defraud a financial institution. Ratkovcic is in Jail in Marin County, California on charges of: obtain money by false pretenses, grand theft, and conspiracy to commit a crime. He is also being held on Polk County's warrant pending extradition.
"We urge family members of seniors, bankers, and sellers of financial products such as money orders, to ask questions, be vigilant for fraud, and be on the lookout for any suspicious money transfers, money order purchases, or transactions. Seniors: please immediately contact your financial institution and meet with them in person if you find any unusual or unexpected deposits, transfers, or withdrawals. Please contact trusted family members." Grady Judd, Sheriff
Preventing Financial Scams & Fraud

In this era of Technology, criminals work hard thinking of ways to steal and use your identity fraudulently for their benefit.  Help stop them by following these steps when online:
Avoid purchasing money orders as forms of payment and definitely be cautious if asked to send them overseas such as to Bangkok, Thailand.
Request a copy of a business' professional license and firm with whom they are associated. Follow-up with the Better Business Bureau for credibility (

www.bbb.org

).
Don't be ruled by emotions — do your homework and ask for details by mail.
Be stingy, don't share.
Be cautious in giving your personal information to anyone.
Companies you do business with generally do not call and ask for your personal or direct banking information.
If contacted, call the business back and use a contact number familiar to you.
Use strong passwords with capital and lower case letters, symbols and numbers. Use a unique password for each financial institution, and do not use those passwords anywhere else.
Be careful with emails from unknown sources. Do not let your curiosity make you vulnerable.
Ignore pop-up advertisements.
Avoid using or be extra careful when using a public computer or accessing Wi-Fi without a protected Internet connection; your personal information is more vulnerable this way.  Conduct business transactions through private connections if possible.  Be sure to log out completely every time!
Only conduct business with reputable businesses.  Investigate the company's history and reviews by checking with the Better Business Bureau before hiring anyone or buying anything.
If absolutely necessary, only allow reputable businesses known to you to have remote access to your electronic device or personal computer.
When making online purchases make sure the address bar says "https" and has a locked padlock to protect your personal information.
If you have detected any criminal or fraudulent activity, notify the company and/or banking institution where it happened. Also, notify the Federal Trade Commission and local law enforcement.
Request a free copy of your credit report every 12 months from each of the three nationwide credit reporting companies (Experian, TransUnion, and Equifax).
Order online from

www.annualcreditreport.com

, the only authorized website for free credit reports or call 1-877-322-8228.