Habitat for Humanity of East Polk County is accepting applications for Frostproof Only.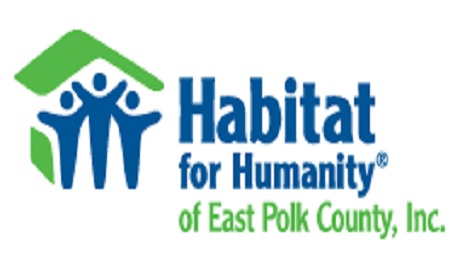 Polk residents can stop by the Recker Highway location to pick up an application Aug 1 – Aug 31st. weekdays from   Tuesday – Friday from 9 am – 5 pm.
DISCOVER YOUR OPPORTUNITIES
TO BUILD A NEW LIFE, MAKE NEW FRIENDSHIPS, SEE GOD'S BLESSINGS FOR YOU IN A HABITAT HOME.
A HAND UP NOT A HAND OUT

LET US BUILD A SAFE DECENT AFFORDABLE HOME FOR YOUR FAMILY.
TOGETHER WE CAN BUILD HOPE FOR TOMORROW !
You can also print the application from their website. www.habitateastpolk.org
ARE YOU READY FOR STABILITY, SECURITY, AND THE RESPONSIBILITY OF HOMEOWNERSHIP ?
IF SO CHECK OUT THE MINIMUM REQUIREMENTS FIRST.



1.  Florida Drivers License
2.  Current Credit Report (see link below)
3.  Proof of Employment or Proof of Income
Below is a list of the Minimum requirements for application consideration.
You should have a minimum credit score of 550. To view your credit score and credit report for free go to
www.creditkarma.com 
Be a citizen or legal immigrant of the U.S. AND Reside in Polk County for at least one (1) year.
Be verifiably unable to obtain conventional home mortgaging And maintain employment for a minimum of six (6) months.
Live presently in over-crowded, unsanitary or unsafe circumstances.
Deposit $500.00 prior to the start of your home and the remaining $500.00 before closing.
Volunteer a minimum of 250-350 hours. 100 hours minimum needed to begin construction of your home. 100 hours minimum needed on another Habitat home. 20 hour minimum each month for Habitat.
Attend a mandatory 6-hour Keystone Challenge Homeowners' class.
Disclose all incomes, employment and financial obligations.
Supply a Credit Report. AND be free of foreclosure, repossessions and defaults for a minimum of three (3) years prior to application.
Attend a 9  week class session on Financial Peace distributed by Dave Ramsey and facilitated by HFH.
WE ARE NOT ACCEPTING APPLICATION FOR OTHER AREAS AT THIS TIME.   CHECK BACK IN 2017 FOR WHEN WE WILL BE ACCEPTING MORE APPLICATIONS.