Polk County Sheriff's Office apprehend career felon
Two deputies fire at escaping truck being driven towards them; no injuries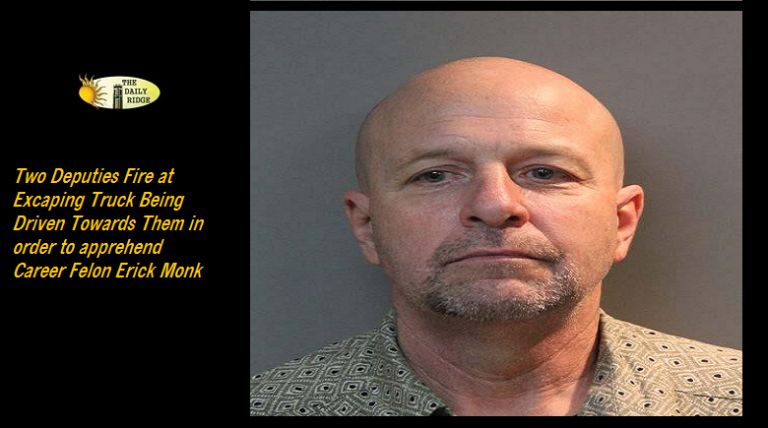 Acting on a tip about the whereabouts of 50-year-old Erick Monk, a white male, wanted for violation of probation / failure to register as a career offender, deputies responded to Monk's parents' home on Fort Meade Road in Frostproof at approximately 12:55 am, on Thursday, March 03, 2016. Deputies had received prior information that Monk was at the property (living in a shed on the property) and possibly armed.  Monk has a history of resisting arrest on multiple occasions.
When deputies arrived they saw Monk standing at a gate in front of the house. Uniformed deputies identified themselves and Monk shouted profanities at the deputies and immediately fled on foot.
Deputies Noah Cannon and Dustin Freeman went around the back of the house to cover the rear of the residence. The residence is surrounded by orange groves.  Monk got into a silver, 2008 Ford F-150, and drove through the grove and directly at deputies Cannon and Freeman.  Fearing for his safety, Deputy Freeman fired three rounds from his agency issued hand gun at the truck coming at him. 
The truck then drove at Deputy Dennis Watkins Jr., who, by this point, had also moved to the rear of the residence.  Deputy Watkins fired one round from his agency issued hand gun at the truck. Monk then crashed the truck into an orange tree and was taken into custody without further incident. Monk was not injured, however, he complained of chest pain and was taken Lake Wales Hospital where he was examined by medical staff and cleared.  He was then booked into the Polk County jail charged with three counts of Attempted First Degree Murder, and one count of Resisting Officer with Violence.
No deputies were injured. It is the standard PCSO policy for mandated, independent investigations to be conducted.  The PCSO Administrative Investigations Section is currently conducting an internal administrative review.  The PCSO Bureau of Criminal Investigations is conducting an investigation of the shooting. The State Attorney's Office for the 10th Judicial Circuit will also conduct an independent investigation.  
Deputies Freeman and Watkins have been placed on administrative leave pending a review of the incident.
28-year-old Dustin Freeman was hired as a detention deputy in June 2012, became a deputy sheriff in November 2014 and is currently assigned to Southeast District patrol.  Deputy Freeman's current salary $43,340.
35-year-old Dennis Watkins, Jr., was hired as a deputy sheriff in September 2008 and is currently assigned to Southeast District patrol.  Deputy Watkins' current salary $44,857.
Monk's criminal arrest history includes 20 total arrests; three of which occurred in other states.  Monk has been arrested in Florida 17 times which includes 15 felony charges, 7 misdemeanor charges, 8 unknown level charges, and one failure to appear.  Monk has been in the Polk County Jail 12 previous times and been to
Florida state prison 4 times
.
His Florida criminal arrests include:
Fail to Register or Provide Info Career Offender
Fail to Register or Provide Info – Career Offender
05/02/2003 – Highlands CSO
Probation Violation (burglary)
Probation Violation (resisting w/o violence) – 2counts
Probation Violation (DWLSR)
Probation Violation (flee to elude)
Probation Violation (reckless driving)
04/12/2000 – Frostproof PD
Probation Violation (burglary)
12/30/1999 – Fort Meade PD
Probation Violation (Carry Concealed Firearm Felony)
06/25/1997 – Frostproof PD
01/04/1997 – Frostproof PD
Carry Concealed Weapon/Firearm
Possession of Controlled Substance-Poss/Sell/Manufacture/Deliver
Possession of Cannabis Less Than 20 Grams
Possession/Use/Mfg/Del/Adver Drug Paraphernalia
Battery-Non Serious Injury
WAOJ Warrant Arrest Other Jurisdiction (Lake County)
Violation of Probation/Comm Cntrl
Violation of Probation/Comm Cntrl
Operating Motor Vehicle W/Canceled/Susp/Rev/Dl
WAOJ Warrant Arrest Other Jurisdiction (Lake County)
03/29/1991 – Lake Hamilton PD