$1,000 Prize To Be Awarded At Veterans Bike Show & New Home Tour On November 5 In Haines City
By Allison Williams
Photo provided by Phyllis Rodriguez
Are you a veteran? Are you a biker? Are you looking for a new home? If you answered yes to any of these questions, you'll want to check out this free event coming up on November 5.
The Veterans Bike Show & New Home Tour will take place on November 5 from 11 a.m. until 4 p.m. in Haines City.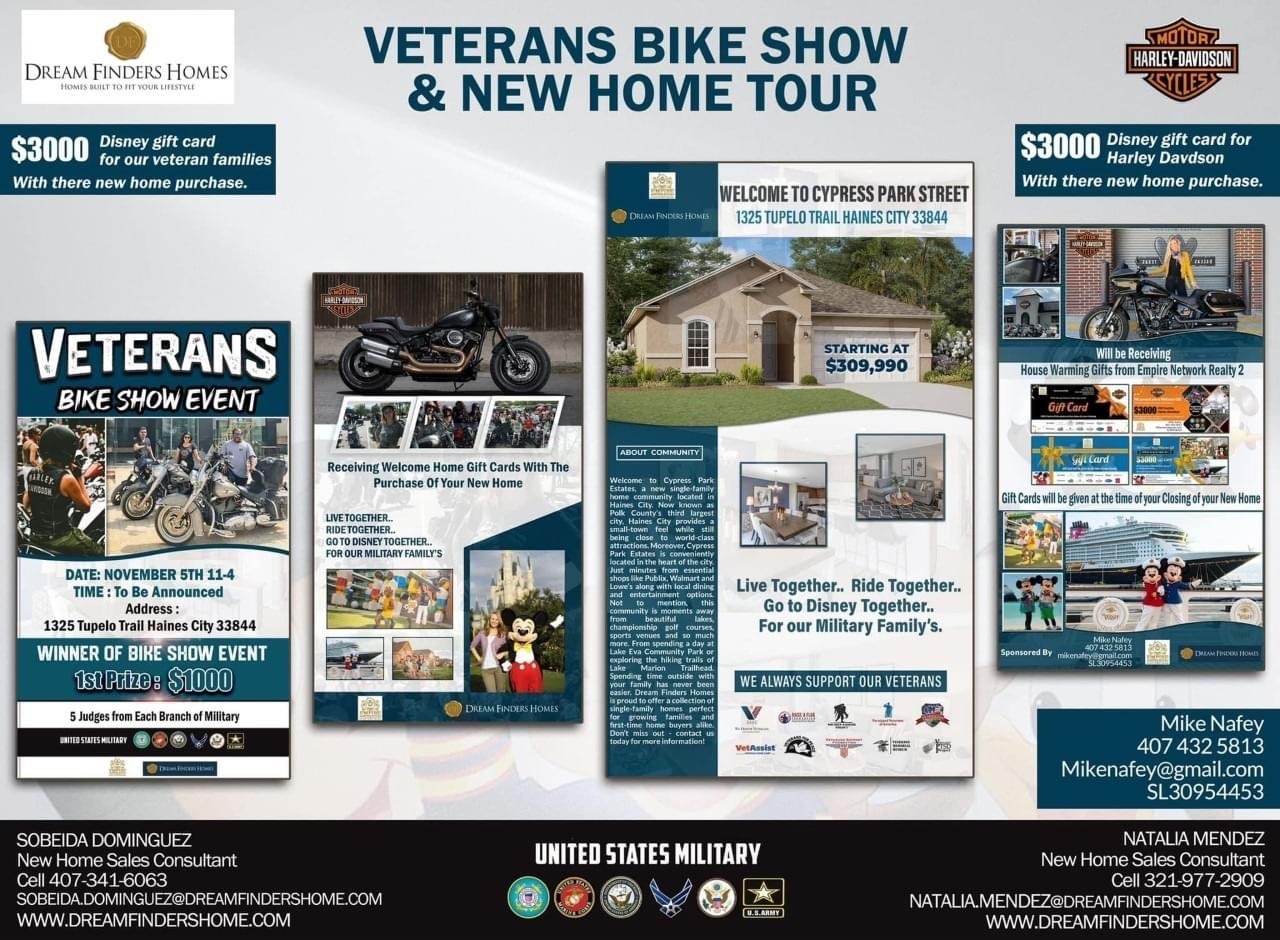 Mike Nafey, an Orlando realtor has set up this special event to benefit veterans and their families. His assistant Phyllis Rodriguez is helping Nafey put on the event.
"He loves to help veterans get into brand new homes for about what they pay for rent," Rodriguez said. "There is zero down for a VA loan and the builder will cover the closing cost. He has teamed up with local builders in the area. He wants to create a community of people with similar interests and hobbies."
The event will take place at 1325 Tupelo Trail Haines City, FL 33844. Here, attendees will have the opportunity to view a couple different model homes and refreshments will be served.
Attendees will have the chance to tour a home within the Cypress Park Estates single-family home community.
Along with touring and learning about homes in the community, there will be a bike show event, where a $1,000 prize will be given away. There will be five judges from each branch of the military and they will use scorecards to judge the best motorcycle.
Don't have a motorcycle to show off? That's ok. There are plenty of gifts for those who buy a new home.
As an incentive, Nafey will be giving away house warming gifts. At closing time, buyers will receive a $3,000 Harley Davidson gift card and a $3,000 Disney gift card.
Please note- you do NOT have to attend the event to receive this special offer.
"The gift cards are valid from Mr. Nafey with any of the builders listed," Rodriguez explained. "It can be any new home in the state of Florida. They do not need to attend the event. They may contact him and mention the gift cards."
Builders:
-Lennar
-Beazer Homes
-Adams Homes
-Mattamy Homes
-Del Webb
-Toll Brothers
-Ashton Woods
-Pulte Homes
-DR Horton
-Meritage Homes
-Craft Homes
-Dream Finders Homes
For the past 18 years, Nafey has been a realtor in Florida and helped many veteran families.
"He has a heart for Veterans and gives these gifts out of his own pocket." Rodriguez said. She added, "Mr. Nafey has a vision to see veterans living together in a community to support one another. Especially to help each other as they understand what each other has experienced."
For more details on the event, see flyer and visit their Facebook event page: https://fb.me/e/2qFw3ukvd