UPDATE:
Highlands County Sheriff's Office Release:
SEBRING — Two men were killed and another person on the ground was injured when an experimental gyrocopter crashed into a mobile home in Sebring Tuesday, Oct. 30.
The crash happened just before 2:50 p.m. and claimed the life of pilot Christopher Lord, 45, and passenger Christopher Brugger, 52. Lord was flying Brugger to an airport in Manatee County after taking off from the Sebring Regional Airport. Both men were killed on impact.
Lord was the owner of Gyroplaneguy, Inc., which is based at the Sebring Regional Airport. According to the company website, Lord was a "pilot, instructor, examiner, test pilot. Chris has flown many aircraft to include fixed wing, helicopter, powered parachute, weight shift trike, and thousands of hours in over 34 models of gyroplanes. Chris has trained and examined hundreds of students and has touched nearly every state traveling across the USA, Chris is the CEO of Pictaio, Inc. ( Mobile scanning LiDAR solutions), director of Pictaio Aerospace, LLC (Gyroplane training), and CEO of Gyroplaneguy Inc."
Witnesses said the aircraft was in some kind of distress before it clipped a power line and crashed into a mobile home at 2003 Caribbean Road in the Sebring Falls Retirement Subdivision. Luckily, nobody was home at the time. A man working on a home next door suffered burns to his arm and leg and was transported to the hospital. One of the adjacent homes suffered heavy damage to one side, while the home on the other side had cosmetic damage. Other than the workman, both of the adjacent homes were unoccupied at the time of the crash.
The first unit, an ambulance, arrived on scene three minutes after being dispatched, and a DeSoto City Volunteer Fire Department truck was on scene two minutes after that, but by then the home was engulfed in heavy flames.
The Highlands County Sheriff's Office will handle the death investigations, while the investigation of the crash will be conducted by the Federal Aviation Administration and the National Transportation Safety Board. Both of those federal agencies will be on scene on Wednesday, Oct. 31.
Anyone who witnessed the crash or saw the aircraft in distress before the crash is asked to call Det. David Pearlman 863-402-7250, email [email protected] or leave a tip with Heartland Crime Stoppers at 1-800-226-TIPS or www.heartlandcrimestoppers.com.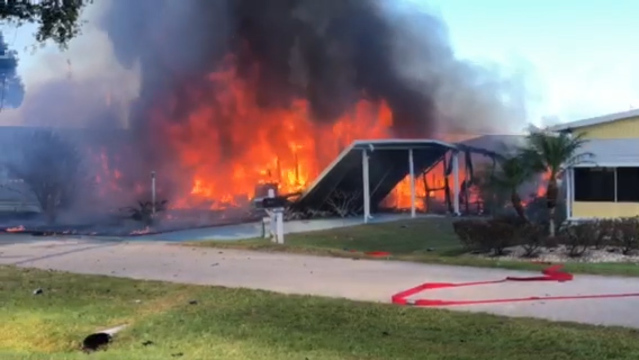 Two people died when their gyrocopter crashed into a mobile home park in Sebring earlier this afternoon.
According to the sheriff's office, another person on the ground was injured and it appeared that no one was home at the time of the crash in the mobile home in the Sebring Falls Mobile Home Park.
Two homes are on fire and Firefighters are on the scene, putting out the flames.
Deputies are advising residents to use caution in the area of Flare Rd and Ryant Blvd, off US 27.