PCSO Release:
The Polk County Sheriff's Office is trying to find out who is responsible for the theft of a large marble slab which was intended for the grave of a recently deceased woman in Ft. Meade.
The theft occurred between August 18, 2018 and 
August
 21, 2018 from the Mt. Pisgah Baptist Church Cemetery at 6210 Mt. Pisgah Road in Ft. Meade. 
The marble slab measures 7′ x 3′ and is four inches thick. It had been placed on a burial plot about 20 years ago when the woman purchased it for herself and her husband. The slab had remained there, undisturbed until recently.
The woman passed away earlier this month, and was buried on August 16th in her burial plot. The stone slab was moved to another area of the cemetery prior to burial, and was to be put back in place once the ground settled. 
The cemetery maintenance crew discovered that the slab was missing, three days after they last saw it. 
The cemetery estimates the value of the gray marble stone slab to be about $1,000.
If anyone has any information about the whereabouts of the slab or anyone responsible for the theft, they are asked to contact Detective Wright at 863-499-2400 or Heartland CrimeStoppers at 1-800-226-TIPS (8477)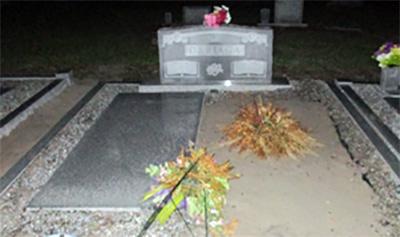 Photo of the burial plot, showing the empty space for the missing slab (on right) which is identical to the slab on the left.