PCSO is investigating a domestic violence and deputy-involved shooting in Lake Wales this evening.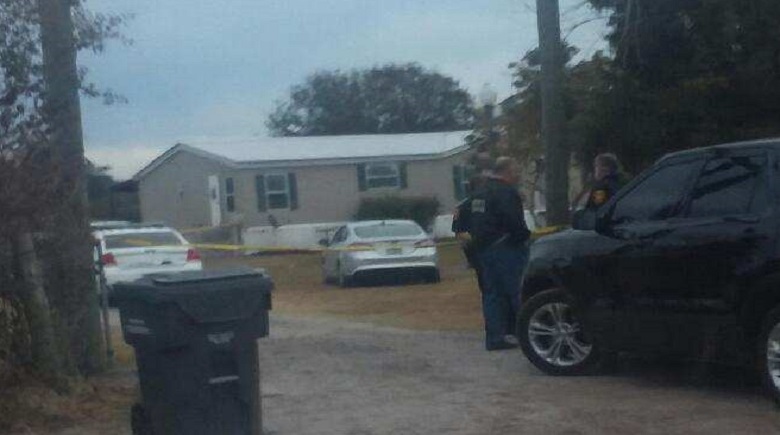 Preliminary information so far is as follows:
Around 8:00 a.m. on Saturday, January 20, 2018, PCSO received a call from 4235 Cottage Hill Street in Lake Wales in reference to an armed disturbance and domestic violence, during which 46-year-old Shannon Jason Cables (DOB 6/13/71) was threatening his wife, 45-year-old Shannon Dawn (not a typo – she has the same first name as the suspect), and 19-year-old daughter, Alexis, with various weapons. The caller told dispatchers so far he had injured one or both of the victims with a large diaper pin, a pool cue, and Mace spray. The victims fled to a neighbor's home before calling law enforcement.
When deputies arrived on-scene, they set up a perimeter around the house and called for the suspect to come out. Eventually the deputies determined nobody was inside the home, and they initiated a canine track to search for the suspect. At the same time, detectives arrived to investigate the domestic violence, take statements from the victims, and escort them to the hospital to be treated for their injuries.
The PCSO K-9 team tracked in the wooded area around the home for approximately two hours, but did not locate the suspect. Detectives initiated an arrest warrant for the suspect, but already had probable cause to arrest him for domestic violence should they locate him before the warrant was signed.
Two detectives escorted both victims back home from the hospital, and they arrived around 2:15 p.m. Two patrol deputies were still at the home.
While both of the victims and the four deputies/detectives were inside the home, one of the victims saw the suspect through a window, approaching the rear of the home, holding an AR-15 and a shotgun. She alerted the deputies. One of the detectives came out of a side door of the home and ordered him to drop his firearms. The suspect pointed the AR-15 in the direction of the detective who was yelling at him to drop it, at which time a gunfight ensued. Another detective and patrol deputy also engaged the suspect from the area of the back door. Once the threat from the suspect was eliminated, the deputies rendered first aid, and summoned EMS to transport the suspect to Lake Wales Regional Medical Center, where he was declared deceased.
There are four ongoing investigations: A death investigation by the PCSO Bureau of Criminal Investigations; an internal investigation by the PCSO Administrative Investigations Unit; an autopsy by the Medical Examiner; and the State Attorney's Office, who is on-scene and will also review all of these investigations once they are completed.
Shannon Cables has been in the Polk County Jail on three prior occasions: 1995 – fleeing to elude, resisting arrest; 2000 – boating under the influence; 2011 – grand theft, dealing in stolen property.
"In one week, two different suspects have chosen to shoot at our deputies. Our message is clear – if you point a gun at or shoot at a deputy sheriff, we will shoot back, until the threat is eliminated. We are grateful this evening that this suspect did not significantly injure or kill his wife or daughter, or shoot my deputies." – Grady Judd, Sheriff