Lake Wales Medical Center Breaks Ground for Expansion of Wound Healing Center
By Allison Williams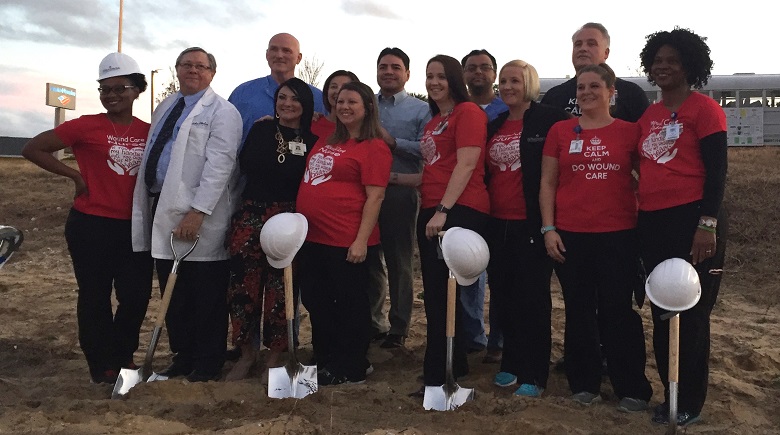 People gathered around the designated construction zone for the upcoming expansion of the Wound Healing Center at the Lake Wales Medical Center Tuesday evening.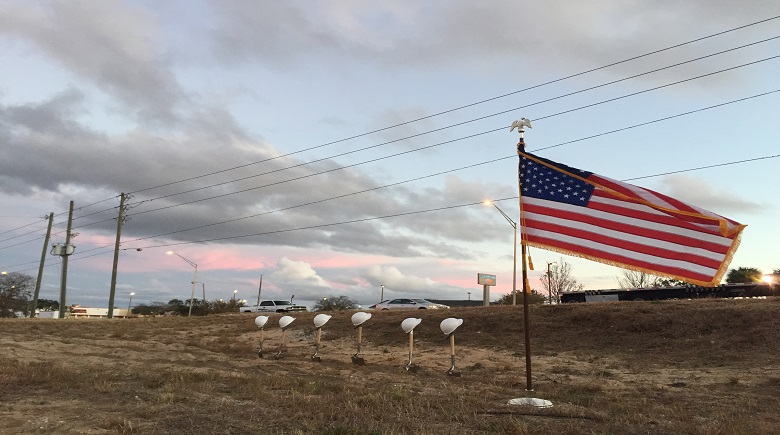 Prior to the ceremony, guests were invited to enjoy food and beverages while listening to the Bok Academy Steel Drums group perform.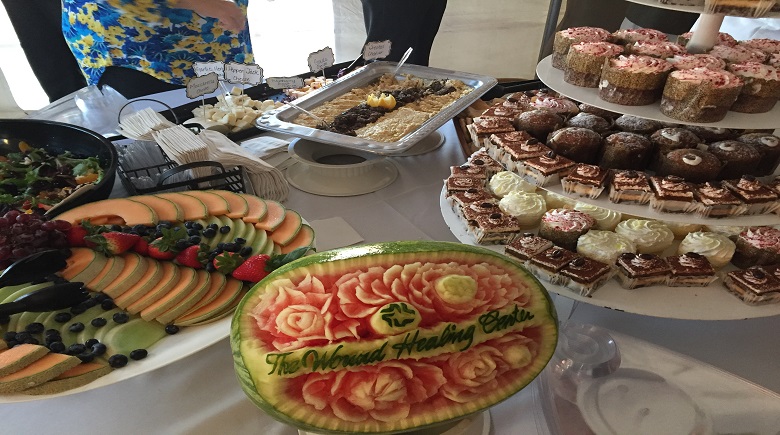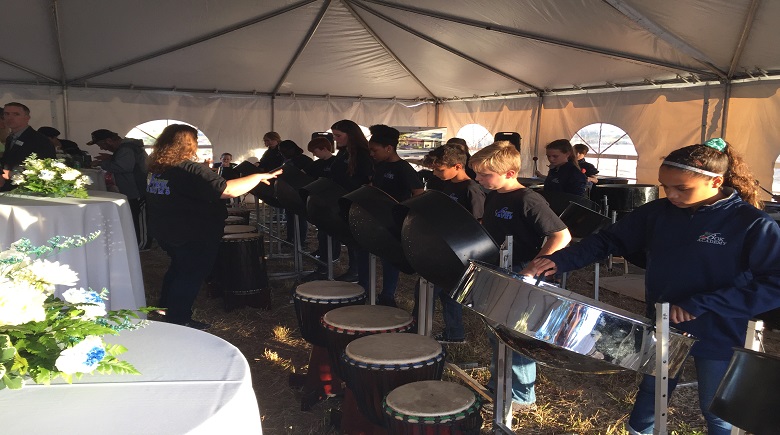 At the start of the ceremony, the Lake Wales High School Marching Band performed the National Anthem. Musicians from the band also played a song on the bagpipes and had Scottish dancers perform.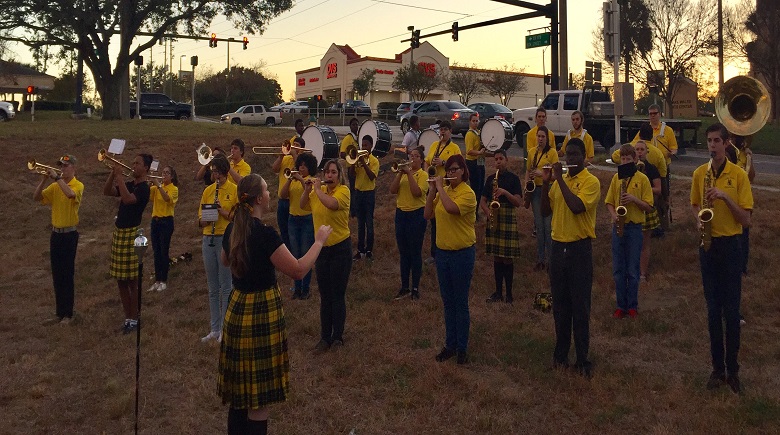 Maryemma Bachelder, Director of Marketing for the Lake Wales Medical Center said the current wound care center has grown so much over the years that it is "bursting at the seams."
Bachelder grew up in Lake Wales and has been with the medical center for 10 years. Her mother was in Public Relations there for a long time prior to that so Bachelder has spent a lot of time at Lake Wales Medical Center over the years.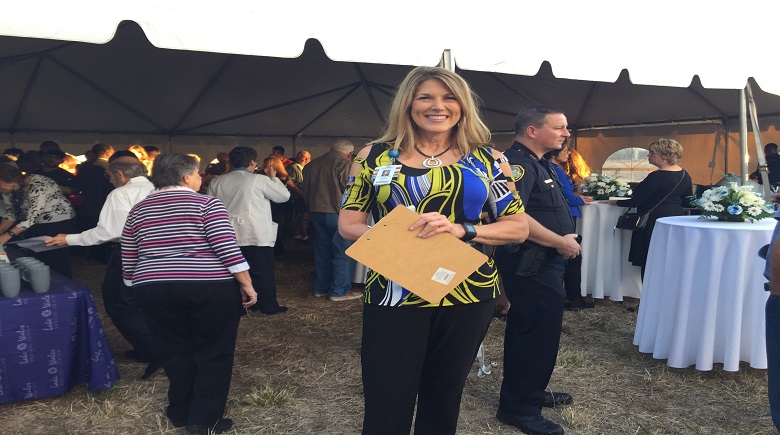 Maryemma Bachelder
"We have had a wound care center for a little over six years now," Bachelder said. "We have been looking to expand and grow that to be able to provide more of that service to the community."
Bachelder explained what the Wound Healing Center has to offer:
"The Wound Healing Center offers highly specialized wound care to patients with diabetic ulcers, pressure ulcers, infections and other chronic wounds that have not healed in a reasonable amount of time. Advanced treatments available at the Wound Healing Center include negative pressure wound therapy, bio-engineered skin substitutes, hyperbaric oxygen therapy, biological and biosynthetic dressings and growth factor therapies. At 5,100 square feet, the new center will be nearly double the size of the existing center, and will include six treatment rooms, three hyperbaric treatment chambers, a private waiting area for hyperbaric therapy patients, and a larger lobby with enhanced wheelchair and stretcher accessibility."
Without the Wound Healing Center, many patients would have lost limbs due to wounds that would not heal with a traditional method. Bachelder is looking forward to the expansion and believes that doubling the capacity of hyperbaric chambers will be a really great thing.
Tiffany Rodriguez, RN, Program Director of the Wound Healing Center also trusts that performing more hyperbaric treatments for patients is very important.
"The seven years we've been open, we have managed to heal over 3,000 wounds and we've done over 200 hyperbaric treatments for patients," Rodriguez said. "In our primary service area, we have approximately 35,000 patients who are diabetic, so this is a huge need for our community and I'm very grateful that we can offer this service."
Dr. James Nelson, Medical Director of the Wound Healing Center was pleased to announce that the Lake Wales Medical Center is in the top four percent of the nation. Awards the center has received over the years are definitely a contributing factor to this accomplishment.
"Our Wound Healing Center has received the Center of Distinction award for four consecutive years, and the Center of Excellence award for five consecutive years," Bachelder said. "The Center of Distinction award recognizes outstanding clinical outcomes for 12 consecutive months, including patient satisfaction higher than 92 percent, and a minimum wound healing rate of at least 91 percent within 30 median days to heal."
Bachelder added, "The Center of Excellence award recognizes quality benchmarks including patient satisfaction and healing rates for a minimum of two consecutive years."
Lisa Foster, Area Vice President for Healogics, manages the Wound Healing Center at Lake Wales Medical Center. Healogics offers education and support to many centers across the United States.
"We have over 700 centers across the United States, so when Dr. Nelson said they are in the top 4%, that's pretty incredible and they are consistently there year after year after year," Foster said. Foster commended the staff for the excellent job they have done and continue to do.
"We can put education and tools out there, but they put them to good use and do a great job for the people in this community," Foster said. "I'm very proud of them and the center and the fact that they are getting a new center."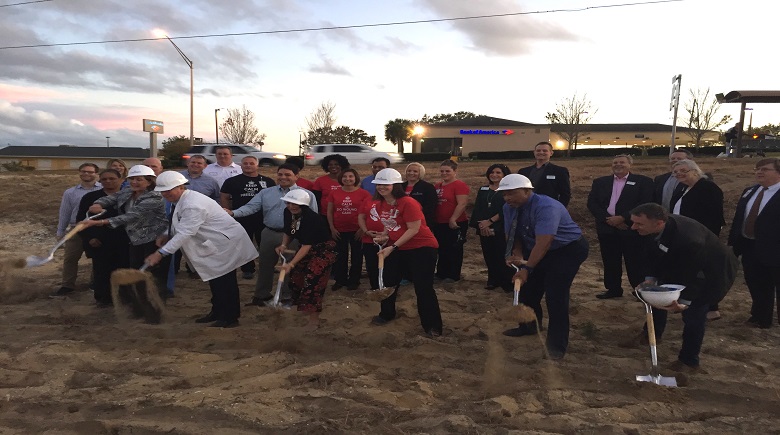 Construction of the Wound Healing Center expansion project is to begin in the next couple of weeks. Bachelder said she expects the center to be open by the fourth quarter this year.