CANDIDATE QUESTIONS: Jack Van Sickle Seeks Lake Wales Commission Seat
Jack Van Sickle is a candidate for Lake Wales City Commissioner, Seat 4. The DailyRidge.com  asked him to tell us a little bit about himself and answer a few questions in the lead-up to the April 4 election.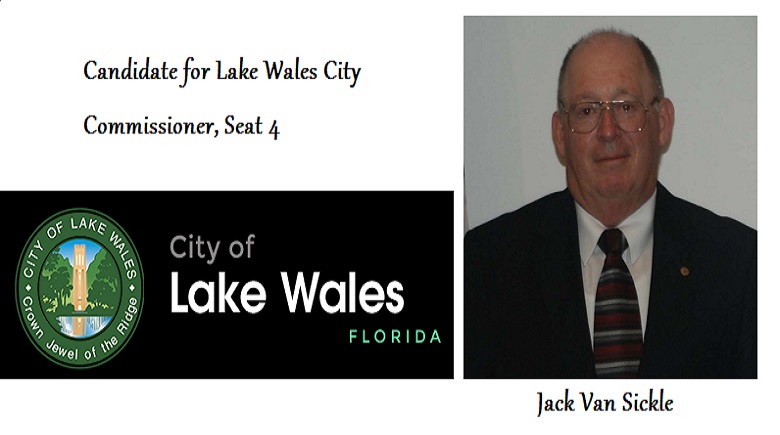 PERSONAL:
Too much has been spent on recent national campaigns. There has been a lot of money wasted and lots of animosity. Let's work together to make Lake Wales a better place and do it amicably. I have decided not to raise campaign funds. I want your vote, but would rather you spend your hard-earned money on your family or improving the community in which you live. Spend those funds locally and help Lake Wales grow. Do something positive for Lake Wales. Pick up a piece of trash, help someone with their packages, volunteer.
Biography
I earned my degree going to school at night while serving in the Army Security Agency while stationed in Augsburg, Germany. I retired from the Defense Threat Reduction Agency after thirty-seven years of combined Military and Civilian Federal service with the Department of Defense. I held positions as systems programmer on IBM main frames and Project Manager on several Electronic Warfare Projects. I was also the Project Manager on a program that was in direct support of the Open Skies Treaty, which was ratified by 26 countries. My wife, Brenda, a retired teacher, and I have five children and nine grandchildren. I will be seventy years old in July.
Previous Pubic Service
Lake Ashton Home Owners Association Board of Directors
Polk County Transportation Organization
Lake Wales City Commission
Lake Wales General Employee Pension Board
Lake Wales Planning and Zoning Board
Polk County Transit Board
Central Polk Parkway Board
Central Florida Metropolitan Planning Organization
Phone number  863-324-6191 Email [email protected] Facebook  @LloydJ2017
WHAT IS YOUR OCCUPATION?
I am retired.
WHY ARE YOU RUNNING FOR COMMISSIONER?
I want to help the city improve in quality of life for all city residents and lay the ground work for quality growth. My improvement plan for the city includes the following:
Contracting
There needs to be more transparency and accountability in the way the city manages its contracts. Contracts should be put out for competitive bid and should be evaluated on a comprehensive proposal. Sole source contracting does not give the city the best value.
Prioritization of Needs of the City
The city has a budget that provides a limited amount of funding. The city commission has a fiduciary responsibility to properly allocate these funds. Which is the better value? Spending a million dollars for a trail from the city to the lake or repairing deteriorated roads. Which would be the determining factor on bringing in new businesses to the city? Repairing failing infrastructure must be a priority!
Fees
Fees should be used for the purpose for which they were approved. For example, the fire fee's first year allocation was only 40% for the fire department and 60% to management reserves which had been depleted.
Management reserves
Management reserves must be maintained at least at the 15% level recommended by the auditors so the city does not have to go out for a short-term loan while waiting for advalorem taxes to come in.
Cooperation between city and county management
There needs to be a better working relationship between the city and county to foster mutual benefits.
City Improvements
The city needs to focus on its entire incorporated area. Proactive planning is needed to prepare for growth to also include outside of the downtown area.
WHAT EXPERIENCES OR STRENGTHS QUALIFY YOU FOR THIS POSITION?
I was a member of the Department of Defense Acquisition Corp, certified in Program Management. This training and experience in managing schedules, managing budgets, prioritizing spending, team building and contracting helped me to hone the skills needed to be an effective city commissioner.
WHAT ARE THE THREE MOST IMPORTANT ISSUES FACING YOUR COMMUNITY?
Neglected infrastructure
High Debt
High Utility cost
WHAT WILL YOU DO WHEN IN OFFICE TO HELP MAKE YOUR COMMUNITY A BETTER PLACE TO LIVE AND WORK?
Insure staff is trained and in adequate number to perform their duties.
To insure a safe city where fire and police departments are fully and adequately staffed.
To insure a well maintained and functional city where blighted areas are redeveloped and where infrastructure is properly maintained and adequate for current use and proposed growth.
To insure our residents the opportunity to further education locally, and to enjoy social and cultural events.
To insure greater financial stability for the city.
These are needed to allow the city to draw businesses for future quality growth.