GET READY LAKE WALES, FL, BECAUSE YOU ARE ABOUT TO HAVE THE TIME OF YOUR LIFE! CIRQUE ITALIA, THE FIRST TRAVELING WATER CIRCUS IS COMING TO TOWN WITH A SPECTACULAR SHOW THAT YOU CAN'T MISS!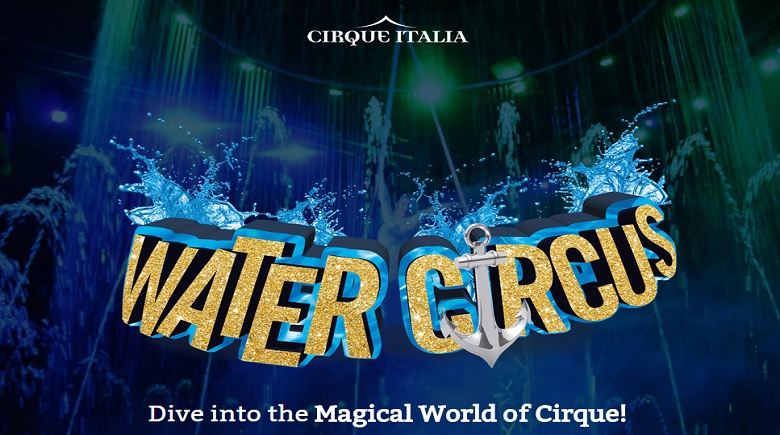 Cirque Italia is a unique show in every sense. After five years of consolidation, a rigorous casting selection, and over 1,000 performances nationwide; this spectacular production has become the greatest version of a "traveling circus". Cirque Italia is proud to have developed a well-deserved reputation as one of the most innovative shows to be staged in the US.
Conceived by Mr. Manuel Rebecchi, and meticulously directed and produced by Chanté DeMoustes, Cirque Italia is a creative mix of the best elements of entertainment and technology. A "never-seen-before" production that combines acrobatics, dance, contortion, and even high-performance BMX and roller-skating. All performances are done in ways that push the physical boundaries of human abilities, which leaves audiences amazed and astonished.
Performers from all over the world are united under the magic spiral of the white and blue big top. They merge their extraordinary selection of skills and put together a stimulating spin on the industry by embracing the element of water. Cirque Italia has managed to find a delicate balance between the poetic and expressive power of the human body and the versatility and fluidity of water as an artistic scenario.
With a magnetism that draws you into your deepest fantasies, the water circus offers two hours of high-end entertainment. Mermaids and dinosaurs make dreamy appearances while awakening the inner child within you. Laser lights and bubbles act as interdimensional movers. Aerialists, acrobats, and contortionists take the human body to the next level – one you never thought possible!
You may think that such a sophisticated production is out of your budget, but Cirque Italia is committed to bringing Las Vegas to your own hometown. They bring an experience and make it not only memorable, but affordable with very competitive prices and special offers.
Cirque Italia also contributes to the modernization of the performing arts and the circus industry by abiding by a strict animal free policy. The company takes a leading stance in offering quality entertainment beyond the use of animals.
For more information visit http://cirqueitalia.com/tickets/301_Water-Circus-I-Silver-Unit-Lake-Wales-FL and make sure to check all our social media accounts.
When: January 19-22
Where:  451 Eagle Ridge Dr. Lake Wales, FL 33859
At:  Eagle Ridge Mall
—Under the stunning White & Blue Big Top Tent
Jan 19 – Thurs: 7:30pm
Jan 20- Friday: 7:30pm
Jan 21 – Saturday: 1:30, 4:30, & 7:30pm
Jan 22 – Sunday: 1:30pm, 4:30pm
Box office hours:
The box office opens on-site on Tuesday, the week of the show.
Non-show days: 10am – 6pm
On show days: 10am – 9pm
You can purchase tickets through our website (cirqueitalia.com/tickets) or by phone: (941) 704-8572. We also respond to text message.
Non vediamo l'ora di vedervi allo spettacolo! Let Your Imagination Wander…and come DIVE into the Magical world of CIRQUE ITALIA.