After Nearly 100 Years;  Draper's Furniture Closes in Downtown Lake Wales
By Robert Blanchard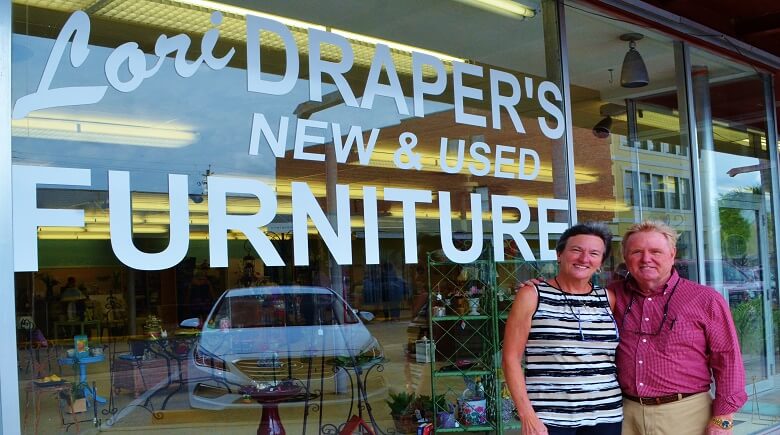 It was a busy day. It was an emotional day. It was the last day.
This past Friday, as bargain-hunters hurried to capture last minute deals, the owners of Drapers Furniture were busy helping customers as they always had. Quality furniture and superb customer service was their hallmark.
But this Friday was different.  This Friday would be filled with hugs, handshakes and emotion as owners Mike and Lori Draper of Lori Draper's Furniture said their goodbyes to long-time friends and local customers.
After posting a sign announcing their retirement over a year ago; Friday March 31st would be their last day before closing the doors permanently to retire.
For nearly 100 years Draper's Furniture has been an icon in downtown Lake Wales.  The story goes that back in 1916, a gentleman named O.P. Branch sold a two-story wood frame furniture store he owned named Wales Furniture Company to a pair of entrepreneurs named J.C. LaGrange and J. Clarence Etheridge.
LaGrange established a funeral home in connection with the store and sold caskets and hardware as well as furniture. In 1917 LaGrange bought out Etheridge's part of the business.
LaGrange eventually sold the store to W.H. Bruce in 1919, who partnered with Henry E. Draper as part of the firm. Draper's business savvy would eventually lead to his becoming the sole owner of the Wales Furniture Company.
Throughout the years; the business was located in different areas throughout the city of Lake Wales after leaving their original location. Their first move was to the Caldwell-Temple Building now known as the Jahna Building. The name was changed soon thereafter to Drapers Furniture. Later they relocated to the building where the Lake Wales Care Center currently operates. They even had a store located on US Hwy 27 near property that would later become the Eagle Ridge Mall.
But the Lori Draper's Furniture location at 123 E Park Ave would be its final location as owners Mike and Lori Draper looked forward to retirement.  When asked what they would do now that they were retired, the couple almost immediately voiced the same response; …."We're going to get a life!"
With no more alarm clocks or time clocks in his future, Mike Draper plans on doing some hunting and fishing and has not ruled out the possibility of some traveling. His wife Lori plans to do some hydroponic gardening and learn pottery and the couple both look forward to spending lots of quality time with their grandchildren. Congratulations to them both!
As an era comes to a close, Draper's Furniture will remain an iconic part of the rich history and success of the community of Lake Wales and will be truly missed by many of us for years to come. Thanks for the great memories and best of wishes to the Draper family for the future!