Bok Academy Student Presents $2,000 To Local Leukemia Survivor And The Leukemia Society
by James Coulter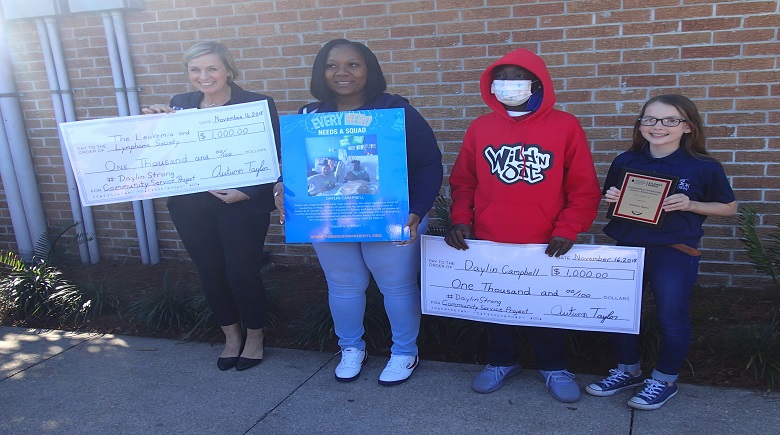 Using funds raised by one of its middle school students, Bok Academy in Lake Wales presented checks for $1,000 each to a local survivor of acute myeloid leukemia (AML) and to a non-profit cancer advocacy organization on Friday.
Autumn Taylor, 12, had raised more than $2,000 by selling wristbands through a fundraiser she had organized for a community service project for her class, led by her teacher, Kari Richards.
During a school morning meeting on Friday, Taylor donated the money she had raised by presenting two checks, each worth $1,000, to the recipients of her fundraiser.
The first, and most important, recipient was Daylin Jordan, a 12-year-old local boy who had been diagnosed with AML leukemia earlier this year, and who had survived thanks to a bone marrow transplant provided by his mother.
The second recipient was Carin Nagy, Campaign Manager for the Leukemia & Lymphoma Society, a national non-profit organization dedicated to searching for a cure for blood cancer such as leukemia and supporting patients and their parents.
Nagy, in turn, presented Amanda with a community service award, and honored Daylin with a plaque commemorating him and his story as an honored hero.
Despite Daylin being diagnosed with an especially repressive form of leukemia, and despite his chances of recovery being slim, his victory over cancer proved to be an especially inspiring tale, Nagy remarked.
"It is a really remarkable story," she said. "So to hear his story about where he was in August, and just being given a ten percent chance of surviving, and then having his chance matched with his mom being his donor was amazing. It is a great story and I am excited to meet him."
As someone who regularly visits schools to inspire students to participate within her organizations fundraiser, Pennies for Patients, Nagy was also inspired to hear about Taylor's initiative to help out a local cancer patient and survivor.
"So it was going the other way around [for my job], which is wonderful," she said.
Daylin had been diagnosed with AML leukemia in May, requiring him to receive three rounds of chemotherapy treatment, as well as other treatments which required his hospitalization.
As he required a bone marrow transplant, a search for a local bone marrow donor was hosted, but no matching donor could be found. His mother, Candice, inevitably volunteered to serve as his donor.
Upon receiving his transplant, Daylin has since experienced a remission in his cancer, and he was recently released from the Ronald McDonald House in Orlando.
His various treatments, especially his transplant, has left his family with overwhelming medical expenses. This inspired Taylor to run a fundraiser for his benefit as her class community service project.
Taylor and her family purchased wristbands and visited several local schools to sell them. The response she had received from students and staff in support of her fundraiser was nothing short of amazing, as she raised more than $2,000.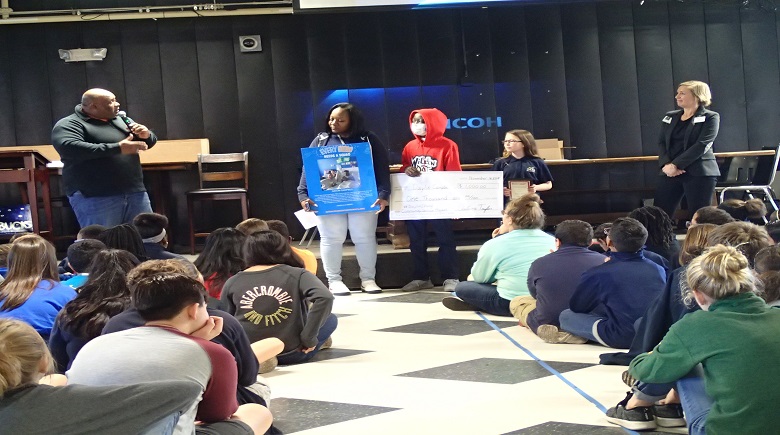 Damien Moses, Principal at Bok Academy, commended her for her tenacity and efforts in supporting her local community, as it greatly reflected their own school's spirit.
"We are truly proud of her," he said. "Every once in a while, you need examples, not just for the students, but for all of us…that it only takes one [person]…to help each other."
Unfortunately, while the generous donation will most certainly help Daylin's family with their medical expenses, they currently require assistance finding a new place to live, as they will be moving out of their old apartment.
Nevertheless, they appreciate the efforts provided to them through their local community, especially by a young student such as Taylor.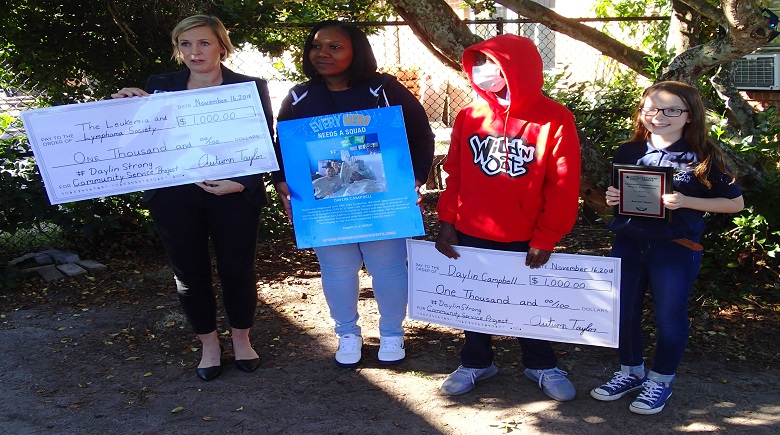 "It is amazing how Autumn put all of this together and Daylin doesn't even know the school, he doesn't even go here, and Autumn put it together for him," Candice said. "It was amazing, and I am so grateful for her and her mother and her daddy."
Anyone interested in providing donations or other assistance to Daylin and his family are free to contact Spook Hill Elementary School.