LAKE WALES – Kristy May is exactly the type of teacher Robin Gibson had in mind more than a decade ago when he was a driving force in the creation of the Lake Wales Charter Schools system.
So it was only appropriate when both got heartfelt standing ovations Friday night as the major honorees at the annual  Lake Waled Charter Schools Foundation annual benefit gala.
Gibson, a local attorney and original member of the system's Board of Trustees, was one of the key community stakeholders in late 2002 who fueled the dream of  Lake Wales charter schools. May, who has been a teacher for 11 years now including the last eight at Dale R. Fair Babson Park Elementary,  was announced as the system's Teacher of the Year.
"This is for someone who is a true leader, absolutely instrumental in creating the Lake Wales Charter Schools system," recalled Keith Wadsworth the LWCS Foundation chairman in bringing Gibson and his wife Jean onto the stage. "His idea was to get a group of people together and do something that had never been done before and really has yet to be replicated."
Wadsworth noted that Gibson always used the two same words as his touchstone while developing the charter system, "Students first."
"We all say it. Every system in the state I'm sure will say it, but how many of us really believe it? How many of us are really willing to do something about it, to take on the politics, the legal parts of it, the statutory fights, Tallahassee, all of the naysayers who said it can't be done," he added. "He did it. It takes a leader, someone very special, someone driving the ship, and that's been Robin."
Gibson recalled the fight, right down to the final decision of the Polk County School Board. The vote was three in favor, and three against, when the final yea ballot was cast to allow the charter system to be born.
"We sent five of the best applications they'd ever seen to the district. They really had no choice," Gibson said. "They knew good and well we would have appealed and won. I can't tell you how personally proud I am of the leadership that  has been drawn to this, the way the community has supported this, and the results we have achieved. And we're continuing to get better, and better and better."
He also noted that the effort to get the system set up was far from a one-man show.
"I know how we got this thing done. There were seven people on the steering committee, there were 10 subcommittees, there were 110 community leaders who all pulled together," he added.
May was one of the six "Teacher's of the Year" who all were honored with gifts and $500 in cash from the foundation. The five other finalists, included Jeff Jacobsen (Hillcrest Elementary),  Amy Harris (Janie Howard Wilson Elementary), Taylor Tancredi (Polk Avenue Elementary), Dr. Lubertha De Primo (Edward W. Bok Academy) and Jamie Winfree (Lake Wales High School).
"This is really overwhelming and amazing," she said. "You all are amazing. This is a wonderful place to work and wonderful community to be a part of."
May said her mother and father were key people on her journey to become an educator. 
"I was raised by very hard-working parents who knew that the key to a successful and fulfilling life was to develop relationships with others, maintain integrity, and always put forth your best effort in everything you do," she noted. "With these core values, education was a natural fit for me."
The foundation also honored a support person of the year at each school with $250. Winners were Jazbeth Alvarez (Dale R. Fair Babson Park Elementary), Krista York (Hillcrest Elementary), Tanya Faye (Janie Howard Wilson Elementary) Niaris Rivera (Polk Avenue Elementary), Teresa Bass (Edward W. Bok Academy) and Karen Blackwelder (Lake Wales High School.)
Presenting sponsors for the gala included the Lake Wales Charter School Foundation, SLA Management, Leonard's, Ecotek, Brown and Brown Insurance, Acaletics, Johnson-Nelson-Gill Funeral Home, McKeon Chiropractic Clinic and Peterson and Myers Attorneys at Law.
Sponsors included Duke Energy, Dawn's Flower Patch, United Health Care, Gibson Law Firm, Foresters Financial, Cleaning Management Solutions of America, Lake Wales Medical Center, Everett Whitehead and Son General Contractor, Pat Cain Wealth Solutions, Mike LaRosa, BKHM CPA, Story Companies, Hughes Corporate Printing, Shick Web Design, Raymond James, Polk State College, Mr. Carlos Unzueta, Mark and Paula Alford, C & T Groves and Land, Citizen's Bank and Trust and Mr. Tom McCance. 
Photo 1 – Lake Wales Charter Schools Superintendent Dr. Jesse Jackson shares congratulations with Teacher of the Year Kristy May.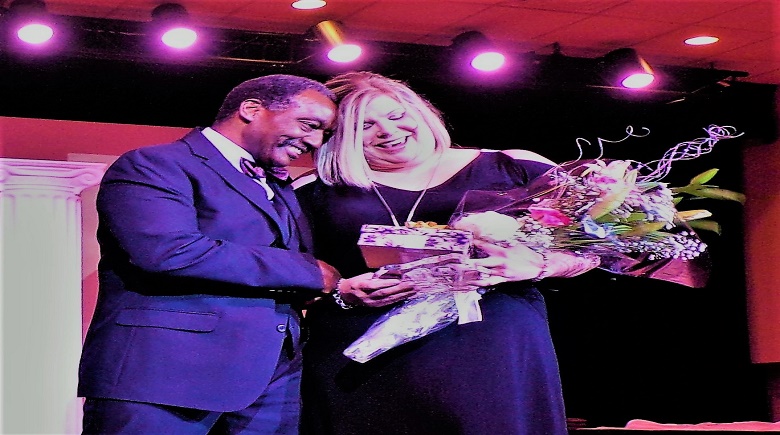 Photo 2 – Lake Wales attorney Robin Gibson, and wife Jean, were honored for their work in helping get the charter system going more than a decade ago.