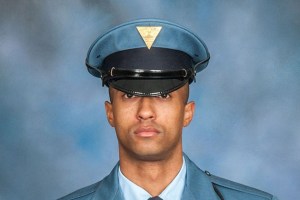 Millville, New Jersey – New Jersey State Police Colonel Rick Fuentes said Trooper Frankie Williams, 31, of the Port Norris Station died at Cooper University Hospital in Camden following a head on collision on Monday night along the highway in Millville near exit 24 for Route 49. Williams was responding to a call for service.
Williams graduated from George Jenkins High School in 2002. He was well known and well liked.
A Toyota Corolla traveling southbound crossed the grass median and went onto the northbound lanes hitting Williams' marked cruiser head-on. The driver of the Toyota was pronounced dead at the scene, according to State Police, who did not disclose the driver's identity. An earlier tweet identified the driver as a woman, but police described the driver as a man in an updated announcement.
The exact cause of death for both still remains under investigation. Route 55 reopened around 3:45 a.m. Tuesday morning.
Williams was a member of the 156th State Police Class, which graduated in January, and was a resident of Atlantic County.
"Trooper Williams was highly respected by his peers, establishing himself very early in his career as an outstanding trooper able to think quickly on his feet and make sound decisions," State Police wrote on their Facebook page.
Gov. Christie offered condolences and prayers for Williams' family in a tweet on Tuesday morning. Bridgeton Police offered condolences on their Facebook page while NJ State PBA President Patrick Colligan tweeted "we have lost a hero."
Our condolences and prayers are with the family and friends of Trooper Frankie Williams and the entire @NJSP community. https://t.co/ZwelhrFfPO

— Governor Christie (@GovChristie) December 6, 2016