Local Lake Wales High School Student Wins 2022 Florida FFA State Creed Speaking Leadership Development Event
By Allison Williams
Photos provided by Clayton Keene
The Florida FFA is a program that local Lake Wales High School student, Clayton Keene is a part of. He started with FFA in middle school at Bok Academy and now he is part of the Lakes Wales High School FFA Team.
An upcoming sophomore, Keene loves all things outdoors. He loves to fish, and another hobby he is passionate about is showing animals, such as hogs and heifers. "I love just being with animals being a part of an operation," he said.
He was inspired by his parents, who both were a part of FFA growing up as well. "I've always wanted to be a part of FFA," Keene said. "My family has been a part of it and I wanted to continue that tradition."
Keene's father showed hogs back in the day and both his parents were a part of the Lake Region FFA program growing up. His family members have always been involved in agriculture and the FFA is an organization that has helped his family tremendously.
Keene competed in several competitions throughout the school year as a freshman They had an initial competition for recognition, sub districts, districts and then states. They had the drive to push and work extra hard to do even better competition after competition. Keene won the 2022 Florida FFA State Creed Speaking Leadership Development Event, giving him the title of state champion. All of his hard work paid off and he will go on to represent the state of Florida in the National FFA Convention.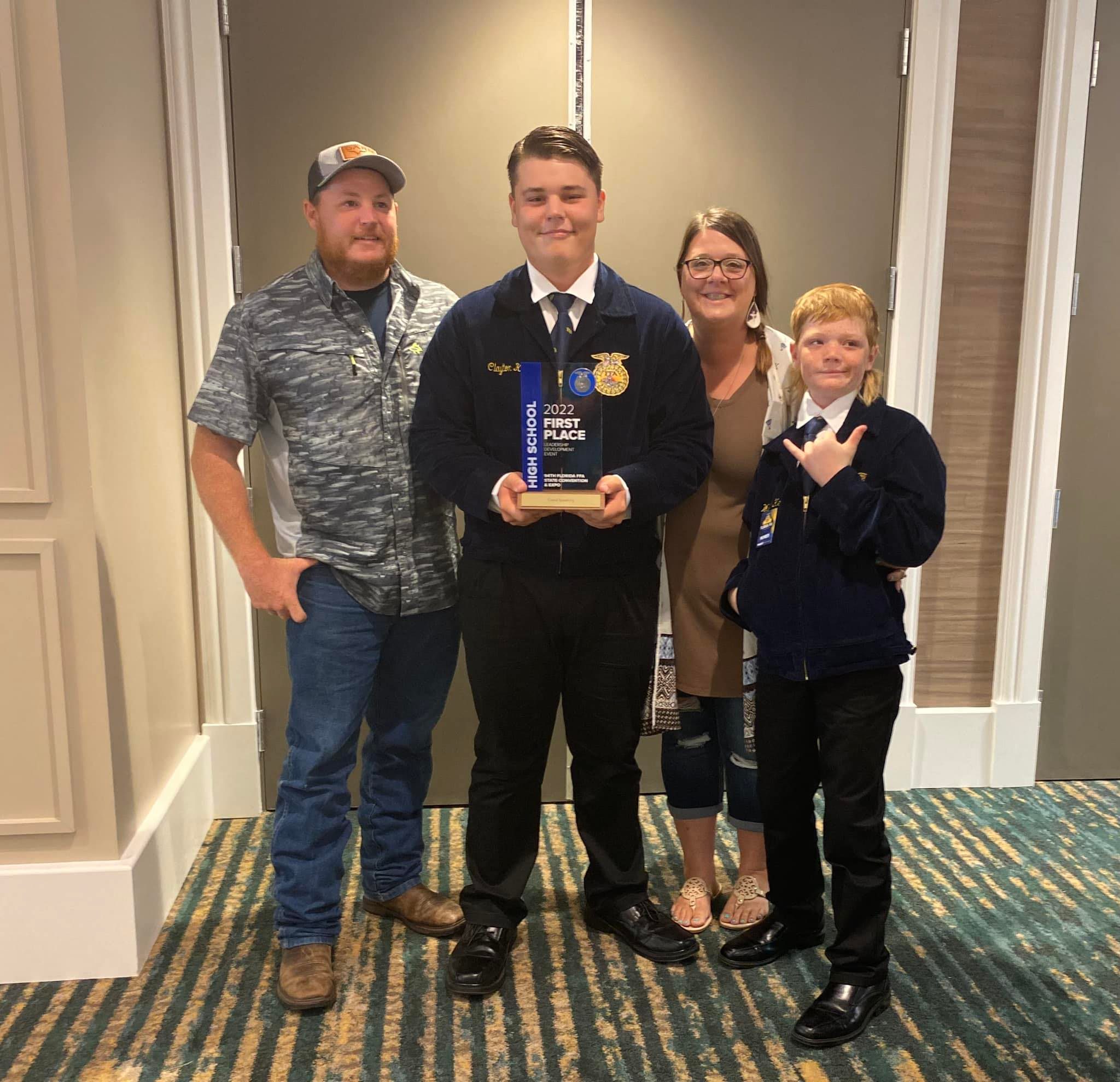 "Preparation was key," Keene said. "We worked very hard to get where we were." He also says he owes a lot of his success to his Agriculture advisor Morgan Williams and former teacher Paige Turner.
"I have known Clayton since he was a member at Bok South FFA with Mrs. Emilyn Sharpless in 2019 and had the opportunity to work with him this past year as a Freshman on our officer team," Williams said. "I got the wonderful opportunity to monopolize nearly every lunch period from November to April to work with the Livestock Judging team (which also competed at the State Finals) and can truly say he is one of the most dedicated students I've ever had."
Keene and his teachers spent many lunch periods, afternoons after school hours studying and preparing for the state competition. He said every day, they would practice reciting the FFA Creed and go over practice questions again and again. "It all came down to those late nights and staying long after school studying. That's what got us the win," Keene said.
Florida FFA Association states, "The FFA Creed outlines the organization's beliefs regarding the industry of agriculture, FFA membership and the value of citizenship and patriotism…The purpose of the Creed speaking leadership development event is to develop the public speaking abilities of 7th, 8th and 9th grade FFA members as well as develop their self-confidence and contribute to their advancement in the FFA degree program."
Ms. Paige Turner (now retired Agriculture Department Head/Advisor) was one of his teachers who also played a role in his success. His teachers, along with Williams believed in him.
"I believe Clayton's presentation of the Creed was spectacular during the final round. There is a power in his voice that captures the audience," Williams said.
The FFA program has done much more than just give his recognition and a title of state winner. "The FFA is a great organization," Keene said. It has taught me the leadership skills I have today."
He thinks highly of the program as a whole. There is also an FFA alumni and Keene believes the program is well organized. Members are involved in what they do and always strive to attend as many competitions as possible. He feels FFA is truly a family. Helping shape him into the man he is today, he looks forward to continuing with the program. For the upcoming school year, Keene will serve as secretary for the Lake Wales High School FFA program.
"I truly do look forward to continuing and being a part of FFA," Keene said. "Like I said it's helped make me the man I am today and I love to help reach out to people as well to bring them into it because it's a great organization, especially for kids of all ages."
Williams is very proud of Keene and his accomplishments. "I have high hopes for Clayton's Future in Agriculture and FFA. He would like to be a State Officer and I believe he has shown that he is capable of doing what is asked and doing it to the best of his ability," she said.