PCSO Release:
UPDATE TO MISSING AND ENDANGERED ELDERLY POINCIANA MAN: We are saddened to report that the body of Mr. Concepcion Labiera was located around 10:00 a.m. this morning (Monday, June 11, 2018) by the PCSO helicopter unit that was actively searching for him, in a densely wooded area approximately 1,000 yards northeast of his home on Green Drive in Poinciana, in unincorporated Osceola County.
Our Agricultural Unit deputies using specialty vehicles were able to get to him, with direction from the helicopter pilot above.
We have made positive identification, per the clothing and jewelry he was wearing, and we have notified his family.
An autopsy will be conducted to determine his exact cause of death.
Original Release: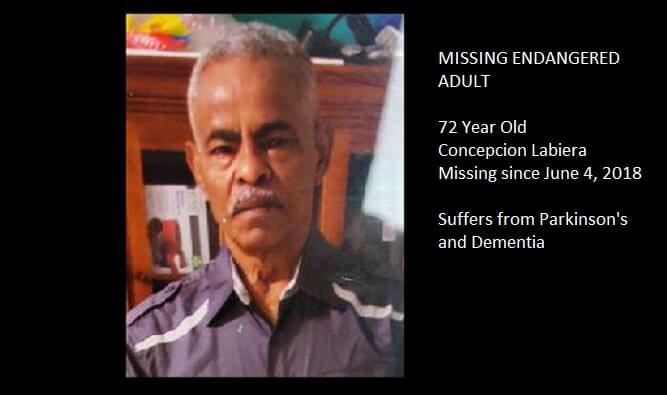 The PCSO Missing Persons Unit is searching for a missing and endangered elderly man who walked away from his Poinciana home on Monday afternoon, June 4, 2018.
72-year-old Concepcion Labiera was last seen by his daughter with whom he lives at 615 Green Drive in Poinciana around 3:30 p.m. When she realized he was not in the house, after a quick search on her own, she called PCSO. He has wandered away before but always found shortly thereafter. According to his daughter, Labiera suffers from Parkinson's disease and dementia, and believes he is in Puerto Rico.
PCSO has been searching for him with Aviation (helicopter and drones) and K-9 units, in Polk and Osceola counties, since yesterday afternoon.
Labiera was last seen wearing a grey T-shirt, khaki cargo shorts, and white sneakers with no socks. He is 5'5″ tall, 160 lbs, with brown eyes and grey hair. He does not have a cell phone or any identification on him. A photo of him is attached in the link below.
If anyone sees Labiera they are urged to contact PCSO at 863-298-6200.