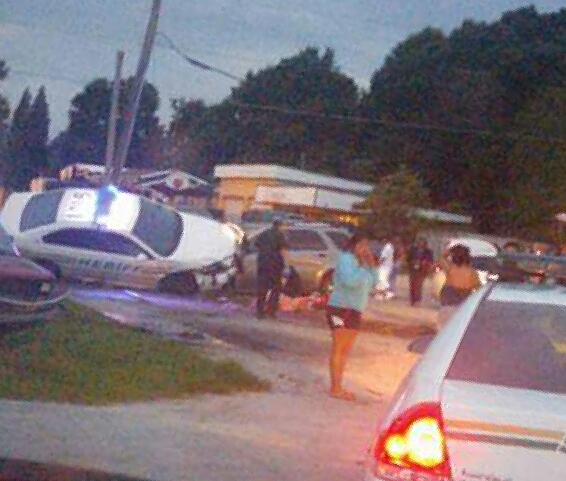 Update 10am Sunday 6/12: Around 8:30 p.m. on Saturday, June 11, 2016, Deputy Sheriff Steven Sykes, who is assigned to the Southeast District, was heading to a call with his emergency lights and sirens activated, northbound on Rifle Range Road. Upon approaching a red 2005 Chevrolet van that was also heading northbound, Deputy Sheriff Sykes prepared to pass the van on the left when the van turned left in front of him. The patrol car struck the right front quarter panel of the van, propelling both vehicles off the roadway. The patrol car then entered the parking lot of the  Placita Mexico store, and struck a parked grey Chevrolet Equinox, and a pedestrian who was walking in the parking lot.
 
The pedestrian, 56-year-old Sheila Smock of Winter Haven, was transported to LRHMC; she is currently in serious but stable condition.
The van driver, 56-year-old Jose Francisco Rodriguez, Jr., was transported to Winter Haven Hospital, where he was treated and released for minor injuries.
D/S Sykes was transported to LRHMC, where he was treated and released for minor injuries.
 
The investigation is ongoing. Upon completion of the investigation we will have more information to release.
——— Initial Article
Wahneta, Florida – According to reader reports an accident has occurred on Rifle Range Rd.  & 11th St. involving a Polk County Sheriff's Deputy. It has been confirmed that the roadway is currently closed. Details of the crash are still being investigated.
It is known that a medivac helicopter was on scene. We will update as soon as possible.