40th Annual Central Park Art Festival Proves Anything Can Be Art
by James Coulter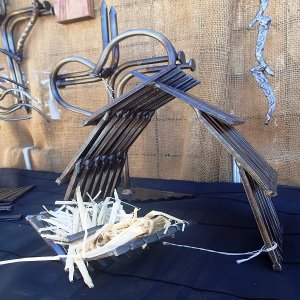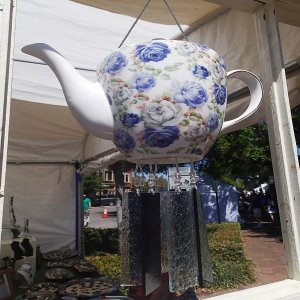 What do rusty nails, empty glass bottles, and dried lima beans all have in common?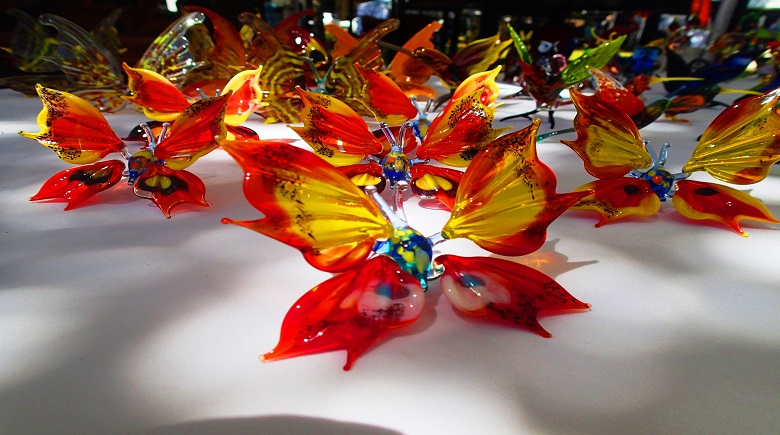 To the untrained eye, such items would be considered garbage; but in the eyes of an artist, these are all material that can be used to make art.
From crucifixes made from nails to necklaces and other jewelry made from dried beans, all of these art pieces and more were on full display for two days during the 40th Annual Central Park Art Festival in Winter Haven.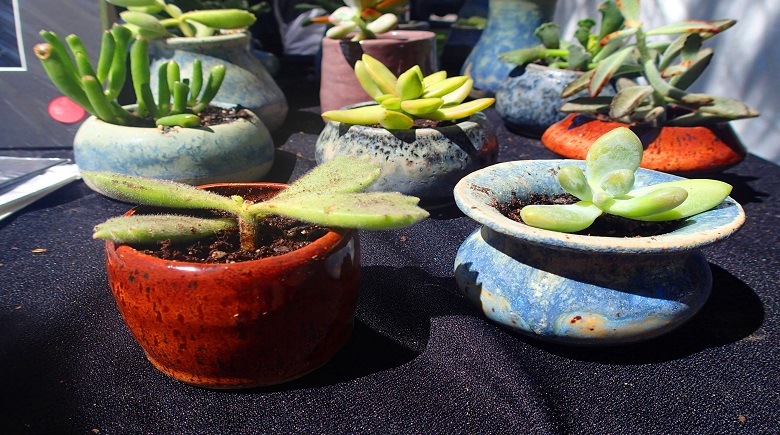 For the past 40 years, this local art festival, hosted by the Ridge Art Association, has served as a venue for local artists within and outside of the county to showcase their artwork.
While the event normally spans three parks in Downtown Winter Haven, with one park currently under construction, the festival was concentrated mostly within the Central Park location, making the entire experience more tightly knit.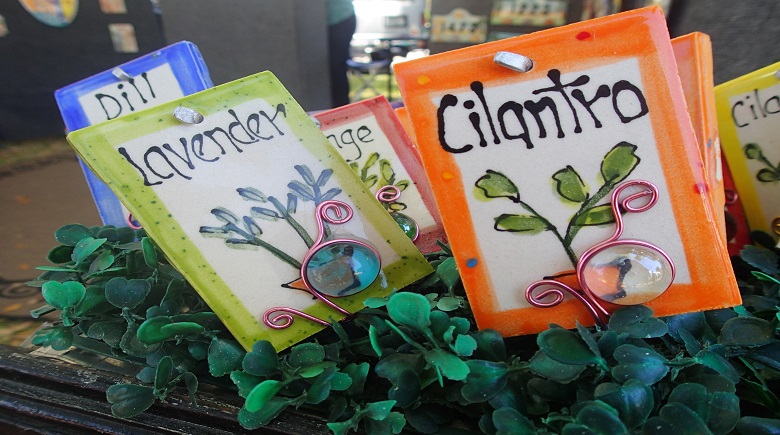 This year's festival had a diverse selection of artwork ranging from traditional oil and acrylic paintings to modern art pieces made from found items.
Regardless of the type of art, the overall quality remains consistent to the criteria created by the Ridge Art Association, ensuring that their event showcases the best of the best.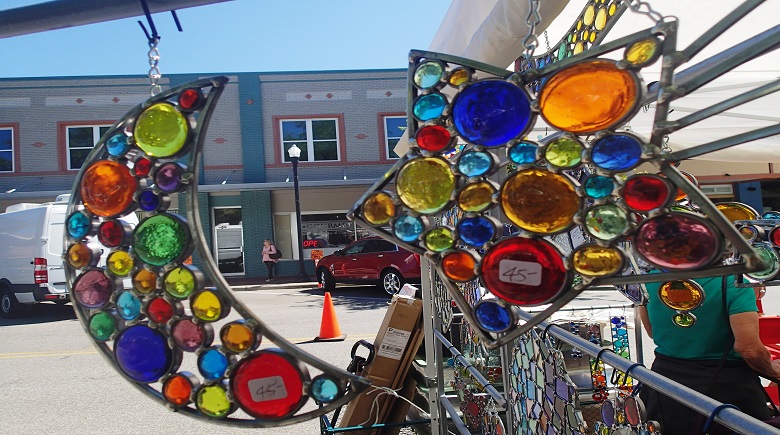 "It is not like fun crafts, it is a fine art festival, and we make sure they [the artists] keep a certain criteria…and that they have a good presentation, and that keeps the artists strong and the customers coming back," explained Christy Hemenway, Ridge Art Association Executive Director.
Hemenway loves being able to see close friends and associates coming back time and again to show off their latest artwork, allowing her event to become a very close-knit community among artists and patrons alike.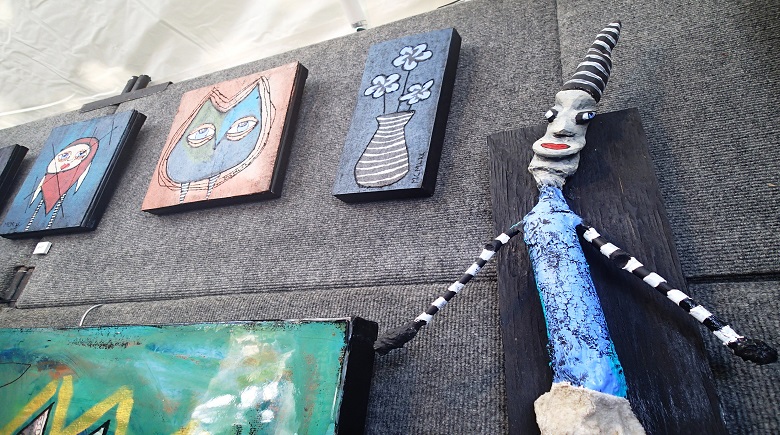 "Some of my artists have been around for a very long time and we keep getting new ones," she explained. "They love coming to my show because it is such a community show and not an over the top organization."
One of these regular artists, Jinsheng Song from Fort McCoy, specializes in acrylic and oil paintings that he creates in layers to make it appear as though the paint is rising from off of the canvas.
His main inspiration is with conservation, as he cares about natural landscapes and ensuring that future generations can enjoy them, he said.
"I do not want people cutting down our trees," he said. "I want them protecting the environment, and that inspires me to protect the enviroment."
While artists like him have been around for many years, others like Peter Dragon arrived to this year's event as their first time ever.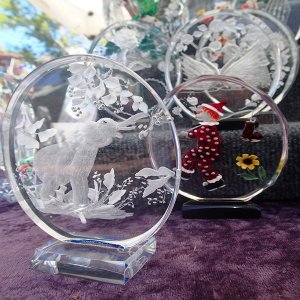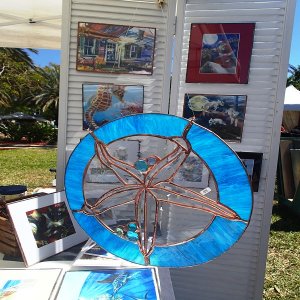 Dragon was inspired by friends who have been in the festival before to showcase his own unique artwork, created in a surreal style that feels reminiscent of a Tim Burton movie.
Most of his creations are the remnants of his childhood imagination, with many of them based on the memories of his father who was imprisoned for murder when he was only a child.
As such, many of his artwork includes dark black and white stripes like prison outfits and numbers like the prison inmate number for his father.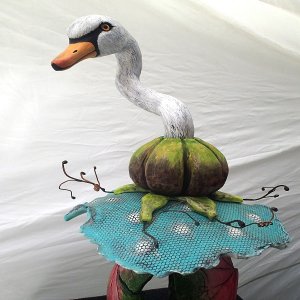 "It is a very surreal style," he said. "[It's] stuff when I was a kid, it would come from my imagination."
While such artwork revels in the surreal, others like the photographs of Bill Sargent of Lakeland blur the lines between photographs and portraits.
His photographs are taken with a soft light source with enough ambient light to take the edge off of the shadows, making the subjects appear almost as if they were painted with oil paint.
"People have asked me if they are painting or photographs," he said. "They have a hard time telling the difference. It is the nature of the light."
While artists like him create their artwork with colors, others like author Tom Levine create theirs with words.
The author of "Paradise Interrupted" and other novels, Levine loves to write humorous and light-hearted stories that spread enjoyment to his readers.
Keeping in tune with the overall art festival, he appeared in an apron hand painted to make him look like a mermaid.
While other artists and authors at least attempt to make their inspiration appear deep and creative, Levine honestly admits that his biggest inspiration is money, which keeps him coming back time and again.
"My books are the most fabulous books that anyone has ever seen, and they bring joy, happiness to people who buy them," he said. "With the vast amounts of money that I rake in…people do not hesitate handing money to me."