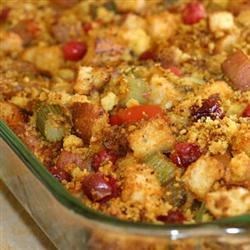 Cooking On The Ridge: Sausage Dressing
Directions
Prep 30 m

Cook 25 m

Ready In 1 h 15 m
Place cranberries in a medium saucepan with enough water to cover, and bring to a boil. Cook just until skins pop. Drain, and cool.

Place sausage in a large, deep skillet. Cook over medium high heat until evenly brown. Drain, and cool.

Preheat oven to 350 degrees F (175 degrees C).

In a medium baking dish, mix cranberries, sausage, bread cubes, dry bread crumbs, onion, and garlic. Season with parsley, oregano, sage, thyme, celery seed, ground ginger, salt, and pepper. Stir in chicken broth to desired consistency. Mix in walnuts and orange.

Bake 25 minutes in the preheated oven, until surface is crisp and lightly browned.