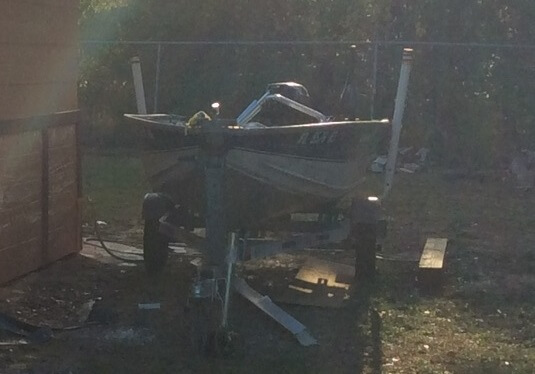 The trailer plate registration is 3225PA, decal 09949118 ,expires 07/29/2018. Color is silver aluminum with 2 red carpet padded boards for the boat to rest on. Also has two PVC visual guides on back for backing up. The year is 2008 homemade.
Boat registration is 1992 TRACKER v-haul 14ft. long. VIN is BUJ181601192, registration decal FL9578HS. Color is silver aluminum with navy blue trim around top.    Boat contents:  small air horn, registration paper under plexi glass, repair kits for motors, small white first aide kit with a red cross, 2 international orange life vests, large black and silver landing net with collapsible handle, small silver anchor with gray cotton rope and chain 30 ft. combined length, one pair prescription glasses,  new white nylon rope 30ft. for manual pulling and tying to dock, large gray tackle box full of assorted tackle and tools, two small wet and dry wells built in,  two built in benches in front back, interior lined with dark gray outdoor plastic carpet, Tohatsu black motor dual start model MF9.8A3EFL  9.8 horse power, serial 046269AD, Minn Kota black trolling motor, 3 gallon red gas can about half full, 12 volt black battery, two black paddles and one yellow paddle, repair kits for motor, bow and stern lights for night navigation.
Further information can be taken from the Polk County Sheriff in the Lake Wales area.
Incident report number is 17-31164.