Asparagus Chicken Quiche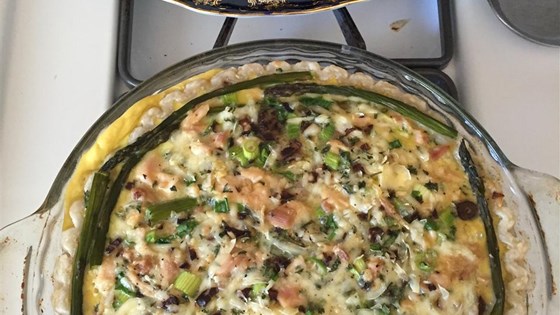 Directions
Prep 25 m

Cook 40 m

Ready In 1 h 5 m
Preheat oven to 375 degrees F (190 degrees C).

Place a steamer insert into a saucepan, and fill with water to just below the bottom of the steamer. Cover pan and bring the water to a boil. Place 1 pound of asparagus into the steamer insert, cover, and steam until just tender, 4 to 6 minutes. Drain asparagus and set aside.

Beat eggs, half-and-half, parsley, salt, white pepper, and green hot sauce in a bowl until smooth.

Stir together cooked chicken, Swiss cheese, Monterey Jack cheese, mushrooms, and green onions in a bowl; mix in flour.

Line a 9-inch pie dish with pie crust.

Spread about half of the cooked asparagus over the bottom of the crust.

Spread about half of the chicken mixture over the asparagus.

Repeat layers of asparagus and chicken mixture.

Gently pour the egg mixture over the layers.

Arrange 3 asparagus spears decoratively on top of the quiche.

Bake in the preheated oven until the filling is slightly puffed and lightly browned and a toothpick inserted into the center of the quiche comes out clean, 40 to 50 minutes.

Sprinkle quiche with cherry tomatoes, if desired.